CLASSIC KIT CARS & SPECIALS – GREEN CREDENTIALS – EVERGREEN ROADSTER
A very underrated kitcar that I always felt should have done better was the Evergreen Roadster, marketed by a Cornish classic car restoration company called Evergreen Motor Company. They were run by Peter Murphy and I think the 'Evergreen' name came from his Irish heritage.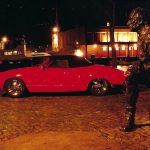 The car was a very close replica of the Volkswagen Typ 14 Karmann Ghia, devised by German kitcar manufacturer, Rudolph Perfect Roadsters GmbH based in Mechernich in Germany's 'west midlands.'
They were founded in 1992 by Ralf Rudolph and brought its factory shutters down for the last time in January 2018.
The company was one of Germany's leading specialist car makers. Their first models were the Spyder C followed by the Spyder S, with the former a replica of the Porsche 550 Spyder and 'S' a pastiche of the later Porsche RS61.
Their Karmann Ghia replica came next and they probably sold around 150 of them. Rudolph only copied the roadster version (80,831 originals built) and never replicated the more popular in original form (362,585 made between 1955-1974) Coupé.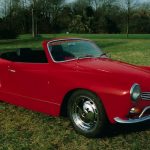 The original car often referred to as a 'Poor Man's Porsche' was a styling exercise by Carrozzeria Ghia and productionised from 1955.
It used a pressed steel body fixed to an un-modified Beetle floorpan. The car still has a cult following but developed a well-earned reputation for its weakness to the tin worm.
Rudolph's replica was launched in 1995 and as mentioned was only available in convertible form. Their GRP shell was built on a subframe fitted to a widened Beetle chassis. The company had even managed to achieve TüV compliance in Germany.
The Rudolph build quality was pretty good – they were known for the fine quality of their GRP – and featured double-skinned doors pretty much identical to the originals complete with wind-up windows.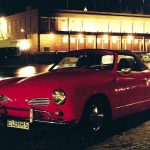 Pete Murphy had seen Rudolph Perfect Roadsters at the Techno Classika show at Essen soon after the Classic Roadster was launched as he was a firm Beetle and classic VWs in general and liked what he saw and could see a market for the replica in the UK.
The first demonstrator was unveiled to UK media in 1997 although the car that Kit Car magazine tested was driven over to the UK by a couple of Rudolph's workers, although it wasn't long before Murphy had been his first right-hand drive version.
Evergreen's version used a new Mexican Beetle chassis for their 'rollers' and turnkeys. The package was a good one although I think the Rudolph hood could be a bit of a pig to use from memory, but an original VW item could be used instead. This looked and worked better.
UK-spec kits cost £2850 inc VAT with turnkey examples starting from £12,000. It's hard to say how many Evergreen-supplied Rudolph Classic Roadsters were sold in the UK. The success of Murphy's core restoration business meant that by late 1998 you couldn't buy one.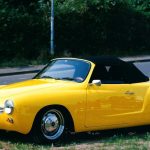 Later Rudolph models included the Bugster and electric e-Bugster and the Lotus Seven-inspired Diardi, which came along in 2001 with VW Group engines supplying the power which ranged from 120bhp to a very tasteful 345bhp.
Incidentally, my late colleague, kitcar journalist Peter Cahill, christened the Diardi. Pete was latterly based in Germany and knew all of the domestic manufacturers very well. He'd advised Ralf Rudolph on the Diardi, suggesting that a car based loosely on the Lotus Seven might be a good idea.
| | | |
| --- | --- | --- |
| | Print article | This entry was posted by admin on November 23, 2022 at 6:35 pm, and is filed under Uncategorized. Follow any responses to this post through RSS 2.0. Both comments and pings are currently closed. |
Comments are closed.