LEGEND! OVER USED WORD. APT IN THIS CASE
One of my all-time motorsport heroes was the late Gerry Marshall and I was delighted to hear about RetroClassic's new 'Gerry-flavoured' t-shirt range. An ideal Christmas present.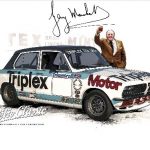 RetroClassic Clothing has created an official range of t-shirts celebrating motorsport hero Gerry Marshall. The larger-than-life Marshall began his career in 1963 at the wheel of a Classic Mini and went on to become one of the UK's most popular drivers.
In a career that lasted over forty years, he contested more than 1400 races in all manner of cars and won 625 of them, while his flamboyant driving style – as well as his post-race escapades in bars and clubhouses around the UK – earned him a legion of fans.
For many enthusiasts, Marshall is just as evocative of the 1970s motor racing scene as James Hunt and Barry Sheene, and the new range of RetroClassic t-shirts celebrates some of his greatest victories and most significant cars.
Gerry's son Gregor Marshall said: 'Being involved in the design of these three fantastic t-shirts with Adam Allen and RetroClassic Clothing has been great fun and brings back loads of amazing memories of Dad. To see his career remembered in such a way is really special and I cannot wait to see other people wearing them and the memories it will evoke in them too.'
Since launching its first range of t-shirts in January 2012, RetroClassic Clothing has grown from being run out of a spare room by founder Allen to an international business shipping an ever-growing range of quality apparel around the world. The Gerry Marshall line joins its other tributes to racing greats such as Le Mans legend Derek Bell and record-breaker Donald Campbell, and includes the following designs…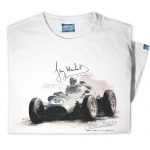 Gerry was closely associated with Dealer Team Vauxhall during the 1970s and his favourite and most successful DTV racer was affectionately known as Old Nail. This famous car started life as a flat-front Vauxhall Firenza and was highly developed between 1971 and 1975. Engine guru Bill Blydenstein enlarged the four-cylinder engine to 2.6 litres and eventually extracted 265bhp from it. It also gained a five-speed gearbox, 'Droop Snoot' nose, partial spaceframe front end and slick tyres.
Old Nail was 'retired' in 1975 and with the end of the DTV race team in 1977, Blydenstein presented her to Gerry as a thank you. He drove her one last time at Brands Hatch in 1978 – winning, of course – and it was the only race car he kept until his untimely passing in 2005. Gerry won 64 races in Old Nail and took numerous podiums, with only a handful of retirements, plus three overall Special Saloon Championships.
Aston Martin's Formula One car was designed for the 1957 season but didn't actually race until 1959, by which time its front-engined layout was becoming old-fashioned. It twice scored points in World Championship Grands Prix but was not a success and Aston Martin withdrew from Formula 1 in 1960.
The car that Gerry later raced was owned by Geoffrey Marsh, a long-time marque enthusiast. Gerry had raced several historic sports cars for him and was invited to Goodwood to test the DBR4 along with Stirling Moss and one of the car's original drivers, Roy Salvadori. Moss and Salvadori were so impressed with Gerry's driving that they recommended to Geoffrey that he would be much better placed to race the DBR4 than either of them – high praise indeed.
Gerry raced the DBR4 with great success and exuberance in 1981, winning seven races – including a support race at the British Grand Prix. There were several further one-off races and wins during the 1980s, before a more concentrated effort in 1990 resulted in more wins and the overall SKF Engineering Production Historic Car Championship.
Between 1978 and 1980, Gerry competed in 80 races in Production Saloons and the British Saloon Car Championship, winning over 50 and claiming five different Production Saloon Championships. This particular design depicts Gerry in a typical pose alongside his 1979 British Saloon Car Championship challenger, which was sponsored by Triplex, Esso and Autocar magazine.
Along with Roger Dowson, Gerry set up his own race team – Gerry Marshall Racing – to contest that year's Championship, with Rex Greenslade in a sister car. Gerry survived a huge accident at Silverstone in July – despite a long list of injuries, he was out of the hospital in 10 days and winning again before the season was out.
Each of the t-shirts is offered in Heather Grey, Sand or White, and they join a RetroClassic Clothing range that also celebrates iconic aircraft such as the Lancaster and Spitfire, classic hot-rods, two-wheeled legends such as Lambrettas and Harleys, and other evocative machines from decades past. Available directly from Retro Classic Clothing, priced at £24.
The 100% cotton crew neck t-shirts have a taped shoulder to shoulder and twin-needle stitching on neck and shoulders.
T-shirt sizes
Mens: XS-4XL
Ladies: 8-18
Kids: 1/2-12/13
More from www.retroclassicclothing.com ENDS.
| | | |
| --- | --- | --- |
| | Print article | This entry was posted by admin on October 20, 2022 at 4:06 pm, and is filed under News. Follow any responses to this post through RSS 2.0. Both comments and pings are currently closed. |
Comments are closed.