A VERY SPECIAL 'SPECIAL'
CAROL HARDY tells the story of the Harold Biggs Special – colour photos by CAROL HARDY
A very warm welcome to CLASIC KIT CARS & SPECIALS online … I have always had a soft spot for 'specials' be they beautiful coachbuilt efforts with aluminium bodies on Derby Bentley chassis or lock-up garage-built homebrew. All have an attraction in equal measure for me.
Sadly, there aren't that many new ones being built these days as I suspect that IVA regulations have put paid to many of them. It took a true, hardcore enthusiast to take on a scratch-built car project. In the depths of Winter, in a freezing cold garage, there's no build manual to turn to and you are well and truly on your own.
I was delighted therefore to see a car I hadn't seen for at least 30 years at last weekend's Festival of Transport in Hailsham, East Sussex – the Biggs Special. I can't even recall where I last saw it but a decent special always has a great back story and the Biggs car is no exception.
Sadly, I didn't get a chance to talk to the current owners, Alan and Sally Osborne of Eastbourne at the show. I regularly go to the seaside town so I shall look out for the car when I'm there.
The car's builder Harold Biggs' name is revered in the 750 Motor Club, particularly in Sporting Trials circles. Indeed each September the Harold Biggs Trial is held. Harold was one of the founders of the 750 Motor Club in 1939 along with Bill Boddy, Colin Chapman and Arthur Mallock.
During WW2 Harold hatched plans to create his own trials car after the war and in 1946 he duly embarked on his project using an Austin Seven registered in 1932 as his 'donor'. The sheet steel body was fabricated by a company called Maltick who could have been located in the Wandsworth/Battersea area of southwest London.
Harold also used one of Les Ballamy's split front independent axles, so popular with specials builders.
Its nickname 'Red Cow' is an interesting story in its own right. The 750's West London branch met at the Rad Cow pub on Hammersmith Road in, er, Hammersmith, right on the corner of Cow Lane. Harold was also a member of the 750 MC's Specials Builders Group whose emblem was a red cow sticker. These are still on the car today.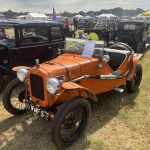 A quick shout out to the Red Cow pub. It was first opened in 1897 and during the fifties, it was known as a venue for jazz and later on, country music. By the mid-seventies, it was one of Fullers (the owners) 'rock pubs' that sprung up around London and also included The Nashville Rooms. It got a bit of a reputation as a punk rock venue and bands like The Stranglers, The Police, The Jam and The Damned all played there, while it was the place where the then-unknown Aussie band AC/DC played their first UK gig in 1976.
The original building was knocked down in 1980 and a smaller pub and Thai restaurant opened in 1983 on the site, although by then Fullers wanted it to be a family pub. It remained under the name Red Cow until 1988 when it became Latymers, which it is still known by today.
There's yet another great sidenote. The Red Cow sits opposite well-known film and TV production company Euston Films then owned by Thames TV. They, of course, made many classic seventies TV shows such as Minder and before that The Sweeney.
I believe that as a result it was regularly frequented by the film crew and actors and stars like John Thaw (Jack Regan) and Dennis Waterman (George Carter) were said to be regulars. One quote I saw said that The Red Cow was almost like an extension of The Sweeney set! I wonder if Regan actually said "Bring the car round, George" to Carter in the Red Cow!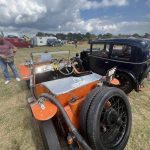 Back to Harold's car and even though it was built as a trials car it has been used on the road for most of its existence although has done some competition work. Harold owned it until Multiple Sclerosis meant that it became too difficult for him to drive although at some time hand controls were fitted to help him.
When I saw the car in the early-ish nineties it might have been owned by a chap called 'Jody' or 'Joby' (maybe) and I might have chatted to him at Brooklands, I think. Anyway, he owned the car until 2020 by which time it was a non-runner and Alan and Sally have had the engine rebuilt but rather beautifully have left it in as original condition as they can including those 'red cow' stickers. A beautiful thing.
http://750sportingtrials.co.uk 
| | | |
| --- | --- | --- |
| | Print article | This entry was posted by admin on September 1, 2022 at 5:06 pm, and is filed under Uncategorized. Follow any responses to this post through RSS 2.0. Both comments and pings are currently closed. |
Comments are closed.