SPLENDID ISOLATION – THE IMPERIAL ROYALE
[title] SPLENDID ISOLATION – THE IMPERIAL ROYALE DOUBLE SIX
The Imperial Royale was a real bit of specialist car grandeur that took its influences from the vast neo-classics that were so popular in the USA in the eighties.
A chap called Terry Marshall was the man behind the Royale and worked at Callington Motors in, er, Callington, Cornwall. The company was known back in the day for the interesting work they got involved in so Marshall clearly learnt his trade well there.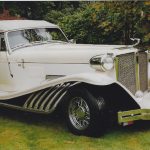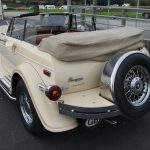 In the early eighties, he moved to California and got a job at the Roaring Twenties Motor Company, where he got the idea for what became the Royale. He built his first car using a Lincoln Continental as the donor.
When he decided to return to Cornwall in 1990, with his new wife, Julie, they founded the Imperial Motor Car Company. He initially began by marketing the Corsair model from his erstwhile US employers while anglicising the Royale for the UK market. The body was crafted from steel except on the flowing front wings, which were GRP.
Marshall was clearly a man who thrived on detail and the Royale is a joy in that respect. The bonnet mascot, huge grille, headlight nacelles, and faux side exiting exhaust pipes are beautifully fashioned and chrome-laden. The bonnet mascot was a huge, extravagant creation more akin to those that are on display at the Schlumpf Museum in France.
Meanwhile, inside the car, the interior featured tan leather trim and Wilton carpeting throughout. There's more carpet in there than in my lounge and it was certainly better quality! There's room for four passengers and the whole ensemble was topped off by a mohair hood.
Terry probably understandably gravitated to the kitcar scene although his car was only available in fully built guise and in the early nineties the Marshalls were regular visitors to kitcar shows
His Royale (UK version) was based on Jaguar XJ12 mechanicals including the glorious V12 XK engine which perfectly suited such a leviathan. You'd certainly be able to waft effortlessly along in a Royale although I imagine the luxo-barge was a real handful on narrow Cornish lanes.
Prices started at £40,000 (£58,877 today, allowing for inflation), which was obviously too rich for UK buyers at the time although given the quality of build and components used it must have cost nearly that for Marshall to build it. Sadly, the car remained a one-off, despite the very best efforts of the Marshalls and by 1993, you couldn't buy one anymore, even if you wanted to.
I hadn't seen the car pictured here since 1992 (I think) so when I popped in to see Alex and Mark at Total Headturners recently I admit to having a treble take at the neo-classic parked in a corner of their showroom. The one and only UK Royale, the very car that Terry and Julie displayed at Stoneleigh, Stafford, Newark et al nearly thirty years ago.
The car still looks pretty grand – literally – and quite frankly, spectacular in its Mercedes-Benz silver (a recent colour change) although has clearly been well looked after during the interim having covered just 16,500 miles. That averages out at about 550 miles per year. Crikey, that XK V12 lump hasn't even got near to being run-in yet. I hate to use such a blatant cliché but you can eat your dinner off the engine lurking within the spotless and vast engine bay.
Hopefully, by the time you read this, the car will be being enjoyed by a new owner. Alex and Mark at total-headturners always have interesting cars in stock – visit them at www.totalheadturners.com.
| | | |
| --- | --- | --- |
| | Print article | This entry was posted by admin on August 4, 2022 at 1:13 pm, and is filed under Uncategorized. Follow any responses to this post through RSS 2.0. Both comments and pings are currently closed. |
Comments are closed.