NYMPH … A CUTE LITTLE IMP
A real lightweight that became too heavy. Then the balloon went up. CAROL HARDY explains why the 'Stables' door was bolted
Clever little concept created by Peter Bohanna and Robin Stables, who had previously designed the car that became the AC ME3000, the Austin Maxi-powered Diablo.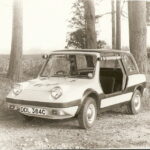 This four-seat Hillman Imp-based utility called the Nymph appeared in 1976 as a kit after a proposed deal for 20,000 units with Chrysler fell through. They'd seen it as a rival to the Mini Moke but the deal foundered when Chrysler UK ditched the Imp! It claimed to be the world's lightest production four-seater, incidentally.
Bohanna Stables would have supplied all the non-donor-specific parts to Chrysler in kit form, who would then build them. Sadly, it all came to nothing.
Stables worked from a barn next to his house in Cadmore End, Buckinghamshire and created the styling for the Nymph in September 1975, using a £35 MoT failure Hillman Imp as the donor, while also moulding its floorpan. The first demo car was finished in a lurid bright green.
Underpinned by a GRP monocoque, Bohanna Stables took the plunge after the Chrysler deal went south and marketed the car themselves, commissioning an Essex boat-building company to produce their bodies, which actually turned out to be of poor quality, so production was switched to Specialised Mouldings …  although these were deemed as being too heavy!
Stables was able to do his party trick at shows, however, of jumping up and down on the double-skinned body to prove its strength. This was a 'trick' pioneered earlier by Giles Smith of Gilbern.
A move to larger premises didn't last long, especially after several customers complained that their bodies were either too thin or too hefty, so they moved back to Stables' barn, although within eight weeks they had upped sticks again and moved into a 5000sq/ft premises in Checkendon. As a result, kit prices rose from £378 to £632.50.
Things were looking good until Bohanna left to work in the film industry (he was also later part of a plan to cross the Atlantic in a hot air balloon, incidentally) so it was back to Cadmore End, AGAIN!
You probably won't be surprised to learn that Stables moved to Beaconsfield in December 1976, at which point orders had dried up, despite a high-profile appearance at the National Custom Car Show at Olympia in January 1977, although this didn't run at all smoothly because the new demo was two days late turning up!
The Nymph story, as far as Robin Stables was concerned, ended in April 1977 …  although a potentially life-saving order of 25 Nymphs from a Barbadian hire car operator, who had already ordered one, arrived two weeks after Stables shut the doors! A cruel twist of fate… Stables ended his career producing guttering for houses, made out of GRP.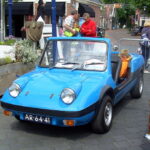 A capable little car all the same.
Bohanna Stables 1976-77
Approx 42 made (plus 25 not delivered)
| | | |
| --- | --- | --- |
| | Print article | This entry was posted by admin on July 14, 2022 at 1:41 pm, and is filed under Uncategorized. Follow any responses to this post through RSS 2.0. Both comments and pings are currently closed. |
Comments are closed.