WHEEL CARE WITH AUTOGLYM
Banish winter wheel woes with Autoglym wheel cleaning products
It doesn't matter if you're running around in a supercar or supermini, winter roads have a habit of quickly turning all wheels into the same, nondescript shade of grey-brown. The royal-warranted car care experts at Autoglym, therefore, suggest that you fight back and reveal the true colours of your rolling stock with the help of the company's broad range of wheel cleaning products.
As enthusiasts have come to expect from Autoglym, each product is carefully formulated to do the hard work for you. So, by selecting from the specialist wheel cleaning products below you are guaranteed a superb, fuss-free result.
Autoglym Custom Wheel Cleaner – Complete Kit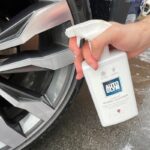 Kit contains – Custom Wheel Cleaner spray (1.0-litre bottle), one small wheel brush and one medium wheel brush. RRP £18
Custom Wheel Cleaner is a highly versatile product. Its acid-free formula will cut through brake dust and road grime yet it is safe to use on traditional painted surfaces as well as specialist wheel finishes such as chrome, anodising or polished alloy. It is also extremely effective in deep-cleaning dirty tyre walls. Simply spray on and use the different size brushes from the complete kit to agitate the liquid into all the nooks and crannies before rinsing off with clean water.
Autoglym Magma and Autoglym Intensive Tar Remover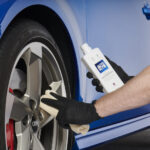 Autoglym Magma is a best-selling product that uses active ingredients to identify and then dissolve iron particles embedded in the wheels. RRP £11.30
Autoglym Intensive Tar Remover is a safe, fast-acting solution that will help you remove stubborn tar spots and other surface contaminants. RRP £8.50
Clean wheels provide the perfect opportunity to identify and deal with limpet-like contaminants that may have resisted the efforts of Custom Wheel Cleaner. Stubborn items of fallout from road traffic include tiny particles of iron, which leave orangey-brown rust spots, and an unsightly 'pebble-dashing' of tar spots flicked up from the road surface.
So, if your wheels look speckled or feel rough to the touch, Autoglym recommends using a combination of products to leave a smooth, uncontaminated surface. Within as little as three minutes, the active ingredients of Autoglym Magma will have turned purple as they react with iron particles and loosen them from the surface. Similarly, shortly after directly applying Autoglym Intensive Tar Remover to the affected area, tar spots and other irritating adherents will have begun to dissolve and can be wiped cleanly away.
Autoglym Instant Tyre Dressing or Autoglym High-Performance Tyre Gel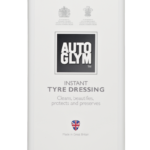 Autoglym Instant Tyre Dressing is a best-selling and super-fast tyre dressing that can be applied to wet or dry tyre walls. RRP £8.50
Autoglym High-Performance Tyre Gel is a super-durable dressing that can be applied to leave either a high gloss or natural satin finish. RRP £11.20
Tyre dressing provides the finishing touch to clean wheels and helps to restore rubber to an attractive, as-new appearance. Autoglym provides two practical, long-lasting solutions in this respect, the choice between them coming down to your preference between speed or hand-applied precision.
As the name suggests, Instant Tyre Dressing is the quickest to apply due to its spray-on formula, yet it can provide either a matt or satin finish depending on how it is treated. High-Performance Tyre Gel, on the other hand, is an award-winning product that is designed to be worked around the sidewall with an applicator pad. It uses active silicone polymers to transform the rubber with satin or high-gloss finishes.
More from www.autoglym.com ENDS.
| | | |
| --- | --- | --- |
| | Print article | This entry was posted by admin on January 27, 2022 at 8:23 pm, and is filed under News. Follow any responses to this post through RSS 2.0. Both comments and pings are currently closed. |
Comments are closed.