TEMPTING CHRISTMAS GIFT IDEAS FROM RING
If you're in need of the ideal Secret Santa gift or you're looking for that perfect present for the car enthusiast in your life, then you're in luck. These cost-effective, handy tools from Ring could be just what you're looking for.
Rapid Digital Tyre Inflator (RTC1000)
This multi-award-winning product makes tyre maintenance fast and easy, inflating a 13in tyre in just two minutes. It comes with three adaptors, LED light, storage case, spare valve caps and latex gloves.
Easy to use when you need it, the RTC1000 Rapid Digital Tyre Inflator is powered directly from an in-car 12V socket and allows you to clearly see the readings thanks to the large backlit digital screen.
Auto-stop ensures accurate inflation and it is simple to set – all you need to do is just turn the dial to the pressure you require, click to set, then press start.
It gets better – the 3.5m long cable allows you to reach tyres all around the vehicle, before simply winding it up to store tidily in the back on the tyre inflator.
Jump Starter and Power Bank (RPPL250)
This is perfect for drivers who are always on the go as it comes with a wireless charging function, for smartphones (both android and iOS), making it ideal in any emergency with no fiddly wires involved.
A compact and safe Lithium Cobalt LiCoO2 jump starter for starting 12V vehicles up to 2.5L, it fits easily into the glovebox so you can just grab it and go.
The jump starter comes with a safe connect system, intelligent clamps and reverse polarity, short circuit and anti-spike protection, keeping the user safe and making it simple to use. It is also supplied with a Micro USB charging cable.
6A Battery Charger (RSC806)
Available for both 6V and 12V vehicles, the battery charger is recommended for START/STOP batteries as well as being compatible with lead, gel, calcium, AGM and EFB battery types. It keeps batteries in good condition without risk of overcharging.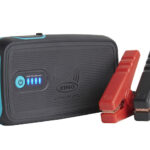 It features a one-button operation and a large backlit digital display for ease of use, as well as reverse polarity and short-circuit protection for safety.
With this product, you can connect and be sure that there won't be any overcharging as a result of using the smart charger, with the charger adjusting automatically to long-term maintenance mode when the vehicle's battery is full.
Let's not forget those all-important stocking fillers that are kind to your budget.
In-car USB multi sockets (RMS20 & RMS21)
With many of us now reliant on power-hungry devices, such as smartphones, tablets, cameras and Sat Navs, it's more important than ever that we can keep them charged while on the go, and unfortunately, a lot of cars simply do not have enough USB ports available.
Ring's triple and four-way adapters allow users to charge multiple products simultaneously while using clever technology to protect against short circuits and overheating, and its tidy design ensures it doesn't look out of place and bulky.
More from www.ringautomotive.com ENDS
| | | |
| --- | --- | --- |
| | Print article | This entry was posted by admin on November 26, 2020 at 6:26 pm, and is filed under News. Follow any responses to this post through RSS 2.0. Both comments and pings are currently closed. |
Comments are closed.