JUNIOR JAMES BONDS APPLY HERE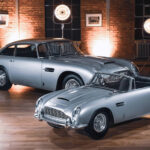 Obviously, we love all specialist cars here at totalkitcar.com and sometimes when something is as cool as this is doesn't matter that they aren't full-size.
Following on from the recent Bugatti Baby, at around 3m long, and 1.1m wide, the Aston Martin DB5 Junior is designed to easily accommodate an adult and a child side by side, to allow different generations to share the love of driving.
The aluminium honeycomb chassis and composite body provide a very rigid platform while keeping the total weight down to around 270kg. Powered by a torque-laden electric powertrain delivering 6.7bhp to the rear wheels, the drivers will be grateful for the integrated bucket seat as they accelerate to the 30mph top speed.
Absolute authenticity was key throughout the development of the vehicle. For example, the DB5 Junior sports the same iconic Aston Martin 'wings', 'shield' and DB5 badges as the original 1963 model. Like its big brother, the dashboard is filled with functional Smiths instruments, which have been cleverly updated for the modern era. The fuel gauge has been converted into a battery meter, while the oil temperature now monitors the motor temperature. Finally, the same Smiths clock, as seen in the original 1960s car, sits proudly in front of the passenger seat.
The car sits on double-wishbone suspension at the front as per the original, with the roll centre and camber gain matching the original geometry. At the rear, there is the period-correct live axle, with authentic upper and lower trailing arm suspension and Panhard rod.
Power is transmitted to the ground through 10in wire wheels with four-wheel ventilated disc brakes, complemented by regenerative braking. A removable battery pack is stored under the opening bonnet, giving 10-20 miles (16-32km) driving range, depending on driving style. A second battery can be added, and each pack can be swapped for a replacement in a matter of seconds.
The DB5 Junior also has three integrated selectable driving modes:
A Novice mode with just 1.3bhp of power for less experienced drivers with a 12mph (19kmh) top speed. In this mode, a remote 'kill' switch is included allowing the car to be remotely disabled at up to 30m.
An Expert mode is provided for more experienced drivers with 6.7bhp of power and a 30mph (48kmh) top speed.
Finally, Race mode is a 'Balance of Performance' (BOP) setting which allows the acceleration and top speed of the vehicle to be aligned with other Little Car Company models for competition on an even playing field.
The Vantage version of the original DB5 was known for its performance upgrade. Now, the DB5 Vantage Junior takes the pace up a level, too. While this elite model has the three driving modes of the standard car, there is also a fourth; 'Vantage' mode, operated by a hidden 'missile' switch which doubles the power output to 13.4bhp and increases the top speed to a still unconfirmed level.
Every DB5 Junior owner will receive automatic membership of the respected Aston Martin Owners Club, three complete registers of the individual specification of all 1059 vehicles will be created for future provenance and authenticity.
Marek Reichman, Executive Vice President and Chief Creative Officer of Aston Martin, said: "I'm thrilled to see this new, exquisite interpretation of what is, perhaps, our most iconic model join the Aston Martin family. Our partners, The Little Car Company have gone into meticulous detail to truly replicate the stunning form of the original DB5. I very much look forward to seeing these fun tributes to the timeless DB5 go into 'service' with owners of all ages around the world."
Ben Hedley, CEO of The Little Car Company, said: "It is an honour to partner with Aston Martin on this project, getting the opportunity to create a piece of history which will be passed down from one generation to the next. We are enormously proud of what we and the Aston Martin team have developed, and it is fantastic that we have made this iconic car accessible in a new way to a new generation of Aston Martin fans.
"As a child, I would not have imagined any better way to learn to drive than in 'The Most Famous Car in the World'.
Prospective buyers who wish to secure one of the limited-edition DB5 Juniors can visit www.thelittlecar.co/db5junior  to place a fully refundable deposit on a first-come, first-served basis. When these build slots are full, a waiting list will be put in place.
Pricing for the DB5 Junior begins at £35,000 plus local taxes, while the more powerful DB5 Vantage Junior starts from £45,000 plus local taxes ENDS.
| | | |
| --- | --- | --- |
| | Print article | This entry was posted by admin on August 27, 2020 at 5:58 pm, and is filed under News. Follow any responses to this post through RSS 2.0. Both comments and pings are currently closed. |
Comments are closed.