SUMMER BREEZE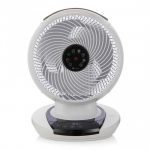 With more pubs, restaurants, gyms and shops re-opening, and Boris Johnson suggesting people return to the office, maintaining good ventilation is important in helping us all get back to a more normal way of life.
According to the Health and Safety Executive (HSE), good ventilation in the workplace can help reduce the risk of spreading coronavirus, so firms should focus on improving general ventilation.
The HSE advises increasing the supply of fresh air by opening windows and doors (unless fire doors) or through mechanical systems. This will make people feel safer and give them reassurance to return to the workplace.
Open windows alone might not be enough to improve ventilation sufficiently. Using a good quality fan moves the fresh air around, providing there is good ventilation in the area they are being used.
Having fans by windows and on desks will help to ensure that all of the air in the room keeps moving and no-one ends up being trapped in a pocket of still air and the environment becomes safer for everyone.
Independent tests have shown that the MeacoFan 1056 moves more air and moves that air further than other fans on the market and does so at a lower noise level.  This is why it is more than suitable for safe air circulation in these uncertain times as we all look to get back to some kind of normal.
Meaco has developed a family of five quiet fans that deliver superior air circulation performance. By using DC technology this results in low noise levels, low running costs, and a longer product lifespan. Four of its five fans have already achieved the prestigious Quiet Mark accreditation in recognition of low noise levels.
The top of the range MeacoFan 1056 and its pedestal version are award-winning super-quiet energy-efficient fans. Multi-directional operation means air bounces off walls and ceilings, keeping the air moving and everyone in a room cooler. Described as 'whisper quiet' at 20dB, it is ideal for bedroom and general home and office use, helping to keep cool through the night and reduce stuffiness on hot days. With twelve fan speeds, it is capable of cooling the largest of rooms, perfect for the return to work or for use in the home.
The smaller MeacoFan 650 and MeacoFan360 are ideal for home and office use, where space is limited.  They are small enough to be placed on window ledges. The newest addition to the family is the MeacoFan 260c, Meaco's first battery-powered, rechargeable, "go anywhere" fan.
To obtain the most out of a fan and improve ventilation, Chris Michael, MD of Meaco advises that "it is best to open two windows and place a MeacoFan so that it is blowing the air out of one of the windows. This sucks the stale air out of the room, while fresh air is drawn in from the other window resulting in a significant improvement in air quality in a very short time and ensuring fresh air is circulated quickly around the room."
More from www.meaco.co.uk ENDS.
| | | |
| --- | --- | --- |
| | Print article | This entry was posted by admin on July 30, 2020 at 5:10 pm, and is filed under News. Follow any responses to this post through RSS 2.0. Both comments and pings are currently closed. |
Comments are closed.