STUNNING WHEEL CLEANER
There are several superb American car care brands – large and small. Some of them have UK distributors, which is great, while others don't, meaning that it can be hard to get hold of their products.
This is made all the worse by word of mouth reports and YouTube vids from car care channels raving about said products.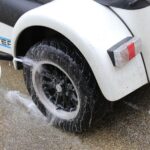 A brand that I'd been hearing great things about was Auto Fanatic based in New York State. The company has a great back story and is run by a well-respected custom car builder well-versed in engineering and professional car care.
His Auto Fanatic brand is a young one but has won many, many friends thanks to the quality of their products. They don't have a massive catalogue, preferring to concentrate on core areas of detailing with a compact range.
When I saw respected detailing figures such as Pan the Organizer raving about some of Auto Fanatics products, I decided that I had to try some for the magazine. When I heard that they were just about to launch in the UK, it made things a whole lot easier.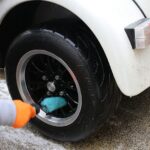 When inclement weather and a bout of flu have allowed, I've been putting their four core products through their paces and really have been incredibly impressed. They do exactly what they claimed on the videos I'd seen and then some.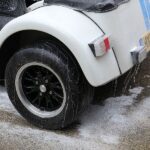 We'll be reviewing the products individually in coming weeks and also featuring them in the next issue of TKC Mag, but we'll kick off with their Professional Wheel Cleaning Foam. This stuff blew me away.
There are thousands of wheel cleaners available from great to simply terrible. The worst of the worst seem very aggressive and one I used once removed the lacquer from the prized 21in alloys on my X5. Actually, it was worse than that. It didn't remove all of it, rather it made the wheel look blotchy. Still, I should have known better. However, since then I can't help treat any wheel cleaner with suspicion!
Auto Fanatic's product is a very gentle wheel cleaner. If you had a load of cars to clean a 500ml bottle would give you 15-litres of foam so when you are dealing with one or two cars at a time, it goes a long way – and I like that.
The safe formula can be used on all finishes and doesn't have caustic soda or other active ingredients. Another plus point is that unlike a lot of other wheel products it doesn't smell like cheap hair bleach!
I used it in the little foam dispenser accessory on my Worx Hydroshot brushless model and it worked a treat. I'm sure my Karcher K5 would have given more foam as it's more powerful but I was well-pleased with the way it foamed on the Caterham Seven R360's wheels that had a lot of brake dust and what appeared to be greasy gunk on them, especially the rears.
I let the product dwell and then used a sponge and a brush to work it in. I then blasted it off. The wheel were clean as I'd expect but they didn't have any residue leftover. They were literally squeaky clean.
This isn't the cheapest product around, but the manufacturer's say it contains only the finest and safest ingredients and having seen the results I'd believe it.
We always promote value for money and even at £26 (500ml) I'd have to say that Auto Fanatic's Professional Wheel Cleaning Foam is a fantastic product. Available in the UK now via www.auto-fanatic.co.uk or for readers in North America, it's www.auto-fanatic.com ENDS.
| | | |
| --- | --- | --- |
| | Print article | This entry was posted by admin on January 16, 2020 at 5:06 pm, and is filed under News. Follow any responses to this post through RSS 2.0. Both comments and pings are currently closed. |
Comments are closed.