SEE IN FRONT – AND BEHIND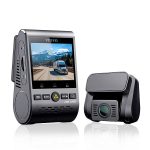 Innovative dashcam manufacturer, VIOFO, has announced the latest product in its popular A129 range, the Pro Duo 4K dash-cam. The flagship model in the range, the device has high-quality ultra HD 4K for front camera recordings as well as many features that ensure drivers are covered as long as they are in their vehicle such as buffered parking mode providing ultimate peace of mind and evidence when needed.
The dashcam is also able to connect to a rear camera to achieve dual-channel recording. The A129 Pro Duo is available for £229.99 from Amazon.
The dashcam provides high resolution, true 4K Ultra HD videos for road front with 3840 x 2160P (4K) and Full HD for road rear with 1920 x 1080p at 30fps (FHD) capturing every detail needed with sharp enough clarity to read number plates easily. Using Sony EXMOR CMOS Sensor in the front camera, as well as Sony Starvis Sensor in the rear camera, it also gives clearer night vision so that video recordings retain precision even in low-light conditions for nighttime driving.
This low-light video is further enhanced with HDR functions that keep detail in high-contrast lighting. With an F1.8 Aperture elements lens in the front camera (130-degree field of view) and F1.6 Aperture element lens in the rear camera (140-degree field of view), all footage captured by the front and rear cameras is of the highest quality and, with a wide field of view angle, nothing will be missed on dashcam recordings.
The dashcam allows for a faster transfer speed than its predecessors using Wi-Fi. The A129 Pro Duo applies 2.4 GHz and 5GHz dual-band Wi-Fi meaning that users can stream live video from the cameras to a phone via the VIOFO app. This can be easily set up via the app (iOS and Android) rather than needing to use the camera itself. The dual-band Wi-Fi also makes it easier for users to download saved footage from the camera when needed so it can be easily accessed for insurance claims. The Wi-Fi provides a much faster and more stable transfer speed under 5GHz than many other dash cams on the market.
The GPS module on A129 Pro Duo includes information about where the driver has been and how fast they were going, timestamping the speed and location for any given time. The GPS module also keeps the camera's clock synchronised to GPS satellites so that all recordings can be timestamped. A built-in G-sensor on both cameras instantly know when the vehicle has been in an accident and automatically protects this footage from the overwrite feature.
The VIOFO A129 Pro Duo retains the compact and subtle design recognised in the VIOFO range. Small enough to hide neatly behind the car interior mirror, it comes with a 3M mount to allow it to be stuck to the windscreen rather than a suction cup. With a 2in HD LCD screen, the display is high-quality, intuitive and allows users to playback video and audio files or toggle camera settings instantly without having to use the app. The device has also been designed to adopt advanced head discharge technology, automatically shutting down in the event of the chip reaching a high temperature in extreme heat. Able to hold up to 256GB of storage, all necessary clips can easily be held within the camera.
We're currently putting one of these babies through its paces and will report back on how e got on with it.
More information on this and the company's other products are available from www.viofo.com/en ENDS.
| | | |
| --- | --- | --- |
| | Print article | This entry was posted by admin on November 14, 2019 at 9:44 pm, and is filed under News. Follow any responses to this post through RSS 2.0. Both comments and pings are currently closed. |
Comments are closed.