AIR FOR ELISE AND EXIGE AND IN ANY CASE PLENTY OF KITCARS USE A K-SERIES!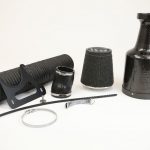 A Lotus flavoured piece of PR but a) I really like the bloke who sent it to me and b) I know a few Elise owners who read this website!
For over three decades now ITG Air Filters has been at the forefront of racing air filter technology – plugging away at both competition and road cars with some truly pack-leading results. This continued, accomplished evolution alongside motorsport and racing success always trickles down to the street eventually, so whether road or racetrack be the destination, the same principles of maximum power and faultless filtration always apply.  With a collective of megalomaniacs based at Coventry HQ, these handmade-in-the-UK filters continue to offer stunning results thanks to the high-tech TriFoam blend that results in truly unprecedented gains for the power hungry.
Although it's said that too much power is never enough, the good folk at ITG know how accomplished the Lotus range of lithe and lively four-cylinder petrol engines are through the Elise and Exige range.
Whether K-series or Toyota motivated they are primed for further modification to extract even more excitement from the redline seeking range of Hethel-fettled twin-cam screamers – hence the latest development of the Maxogen cold air intake solutions to maximise intake air. Designed to maximise intake air velocity and volume at the factory throttle body, the entire range promises unspecified power and torque gains over the factory airbox.
Part number ARAB65TES3 (aluminium)/RAB65TES3 comes with either an ally or carbon fibre airbox and fits the fly-by-wire Toyota powered Elise 111R and Exige S2. ARAB65TES2 (aluminium) / RAB65TES2 fits the throttle cable Toyota powered Elise S2, again with the option of carbon or ally airboxes. ITG has also taken things back to the original with the K-series Elise S1 option – AB65KE3 (carbon-fibre).
As is the case across the entire Elise and Exige range they can all be had with either the classy black ally airbox or the cost option carbon fibre upgrade.  Last, but by no means least, is the Elise S2 K-series option of RLAB65KES2 / ARAB65KES2 (aluminium) – all come fitted with the much-revered Tri Foam filter to maximise air-flow and efficiency throughout the rev range.
To ensure the same nimble, light is fast handling traits that Mr Chapman always insisted upon all of these airboxes tip the scales well below the factory intake system.
In many cases, independent tuners have seen anywhere between 10 – 15hp gains simply by bolting these intake solutions into place.  A straightforward job that's easily achievable at home using basic hand tools, this reticulated foam intake kit also comes with all brackets, pipework and screws to ease fitment.
Owners of the above vehicle(s) can now benefit from ITG's decades of induction expertise. The filter is mounted towards the side of the engine bay in direct air flow, well away from any power robbing heat under the bonnet.  Aside from the increase in power, there are improvements with throttle response and a pleasing, yet unobtrusive increase in intake noise.
A specially created reticulated polyester foam blend optimised for high-performance applications, Tri-Foam is the material of choice for all ITG filters thanks to its multifaceted abilities. These include maximised air-flow without a corresponding drop-off in pressure, enhanced cleaning efficiency with a proven ability to trap common airborne contaminants and impressive dust load-up tolerance. The latter ensures that ITG ProFilters can absorb a large amount of fine dust without reducing air flow capacity or efficiency. This dust load-up tolerance remains a firm reason why ITG stick with the reticulated foam construction technique, with each filter lovingly put together by hand thanks to a workforce of certified petrolheads.
Tri-Foam's abilities stem from its advanced construction, with varying thicknesses of finer or coarser foams utilised for different applications. This, in turn, gives ITG huge flexibility and allows ITG's engineers to tailor filters to set fitments, maximising efficiency and performance. Tri-Foam filters consist of a stainless-steel wire mesh, a coarse outer-layer (designed to both prevent ingress from foreign bodies and straighten airflow), a medium grade mid-layer to trap most of the harmful dirt, and a fine inner layer, the last line of defence against minute, particle-sized contaminants.
What's more, because it uses the very latest adhesive technologies to bond the foam layers, ITG filter assemblies are totally resistant to water, fumes, oils and fuels – including the exotic brews used in racing.
This Maxogen's ability to filter down to a particle level is highly significant, both from a performance perspective and the continued health of Lotus's finest. It goes without saying that ITG's products are optimised with efficiency in mind for a direct impact on performance.
ITG has been at the vanguard of filtration and induction technology for decades now, with a burgeoning motorsport program which sees it tasked with supplying some of the front running teams in series as diverse as F1, the BTCC and the WRC. Being involved with said championships means ITG is privy to all manner of hard-won data, the kind that's proved invaluable both when it comes to developing new fitment options and finessing existing ones. This ensures that ITG hardware doesn't merely look the part, it contributes to enhanced levels of filtration and a smooth, restriction-free induction tract, all borne from its commitment to motor racing. Make your Elise or Exige the giant killer it already knows it is.
Prices range from £270-£340 and more information is available from www.hanger111.com or www.itgairfilters.com ENDS.
| | | |
| --- | --- | --- |
| | Print article | This entry was posted by admin on May 30, 2019 at 7:19 pm, and is filed under News. Follow any responses to this post through RSS 2.0. Both comments and pings are currently closed. |
Comments are closed.