MEV TALK OF NEW BLADES AND ROCKETS…
It's about time, I reckon, that we look at a very important UK kitcar manufacturer, Mills Extreme Vehicles and bring you up to date with their current model range…
Actually there's a bit of a stop press as Stuart was in touch just as I was writing this piece to say that he's soon to be unveiling the all-new ROCKET 2, and although he was being pretty coy about full details he did send me this sneak peek at the car under build in MEV's Mansfield workshop. What I do know is that power will come from a Lotus Elise-spec Toyota engine delivering 190bhp. Nice and we'll bring you FIRST DRIVE of this one very soon…
Latest addition to the MEV range is the ExoBlade, which technically isn't quite in kit production yet but it soon will be and we'll be road-testing when it's ready.
Although lots of MEVs have found their way onto circuits up and down the land, including a one-make race series, MEV-boss Stuart Mills has never really fully attacked that market directly himself. Until now. With the ExoBlade he's going to prove beyond doubt that he can design performance-orientated kitcars as well as just affordable fun ones…just like he did when he ventured into the world of replicas with the Replicar…
ExoBlade will feature, unsurprisingly, a Honda Fireblade CBR1000 engine, which when coupled to an all-up weight of 400kg (give or take) and race-bred suspension, allied to prime aftermarket stuff like Tillett seats, is going to be a blistering performer and an eagerly awaited one.  Oh and it'll have over 500bhp per tonne too….more on this one as we get it
Talking of the Replicar, it is Mazda MX-5-based, a donor that Stuart likes a lot and is his take on a £20m classic Aston Martin racer from the fifties that has really hit the spot for hundreds of people and not all of them what you'd call true kitcar enthusiasts, either. Replicar kits cost from £5994 inc VAT.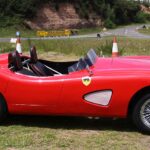 One of Stuart's most successful designs (actually two of my favourite MEVs – Mevster and Missile didn't really trouble the sales charts), certainly in volume terms, is the Exocet, which again is Mazda MX-5-based and really has been a big success, rivalling the original Rocket as best-selling MEV model.
It offers innovation, affordability and the promise of bloody good fun, all from cheap and humble donor parts. You can't beat that really. Exocet kits from £3114 inc VAT.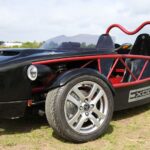 I like Stuart 'Stiggy' Mills, he's a real character and a brave and talented designer who is never afraid to plough his own furrow. Indeed, some of his designs caused raised eyebrows when they first appeared but it's funny how others soon followed the same path…Oh and we mustn't forget Stiggy's right hand lady, Jools, ace welder, ace sales person and key part of the MEV operation. She'll kill you with a put down too if you're not careful!
More information from www.mevltd.co.uk or 01623 655 522 ENDS.
| | | |
| --- | --- | --- |
| | Print article | This entry was posted by admin on June 9, 2016 at 6:50 pm, and is filed under News. Follow any responses to this post through RSS 2.0. Both comments and pings are currently closed. |
Comments are closed.