admin
This user hasn't shared any biographical information
Posts by admin

Webcon has the world's largest range of manifolds, and now, by popular demand, the legendary Jaguar V12 has been added to the list.
The six-piece twin-choke manifold set has been made to the company's usual standards and is made in England. It is suitable for Weber 40IDF carburettors and throttle bodies, although it can also be ported to suit the 44 and 48mm versions.
The Webcon V12 manifold set is available as part number MM4480MF and is priced at £836.89 inc VAT.
Linkage packs are also available to suit as follows: PRE-HE (part number LT4480) – £424 inc VAT
HE (part number LT4480HE) – More >
UPGRADE your storage space to the ultimate garage or workshop storage solution! Be the envy of your friends or workmates with a great looking Clarke heavy-duty professional modular storage package, suitable for workshops, warehouses, garages or sheds!
Ideal for trade and domestic use to create the perfect fitted garage and now available with FREE UK mainland delivery on all Clarke Modular Packages!
Choose from ten complete package systems for ease of ordering and you will know you have all the right units to build your package and you'll also save money compared to buying all the units individually.
Alternatively, build your own custom More >

I am on record as saying that I have issues with lots of glass cleaners. Many, frankly, are rubbish, while others might clean your glass but leave an irritating, smeary residue behind.
However, there are some good ones out there and a couple of new arrivals are among the best I've tried – Akira Brand's Topaz and Revive Auto Apothecary's Glass Cleaner, while this one from Mint Classic is also a corker.
The pleasant green colour is pleasing on the eye although there is a heady whiff of alcohol, which in this case is good. The product's formula means it evaporates very More >

The Mini Spares team are the experts when it comes to sourcing hard-to-find parts for the classic Mini. However, if they can't source a part that's up to their high standards they will not compromise on quality and so will opt to make their own version.
A case in point is the latest Mini Spares Engine Front Plate for A Plus engines that use a timing chain tensioner.
The main bearing cap screw holes are countersunk to allow flat-faced screws to be used in place of bolts, thus providing the extra clearance required when using a duplex chain. (Screws are available as AEA687 or More >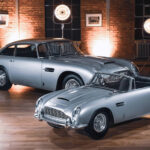 Obviously, we love all specialist cars here at totalkitcar.com and sometimes when something is as cool as this is doesn't matter that they aren't full-size.
Following on from the recent Bugatti Baby, at around 3m long, and 1.1m wide, the Aston Martin DB5 Junior is designed to easily accommodate an adult and a child side by side, to allow different generations to share the love of driving.
The aluminium honeycomb chassis and composite body provide a very rigid platform while keeping the total weight down to around 270kg. Powered by a torque-laden electric powertrain delivering 6.7bhp to the rear wheels, the drivers More >
I think totalkitcar and TKC Mag readers will be very interested to hear about super cool new sunglasses brand Yuma Labs founded by Sebastiaan De Neubourg. From one industry that recycles to another!
Their frames are pretty funky and what's really great is that they are made from 100 per cent recycled PET bottles. Thanks to rigorous production controls, they can use only the purest materials in their own manufacturing process. Another cool thing is that thanks to a label and a unique code that comes with your sunglasses you'll be able to trace the origin of the parts used.
In what More >

Crikey, I can vaguely remember as a kid my dad had a couple of Fords with the Essex V4 engine. It was in the mid-sixties I think. One was his works Mk1 Transit and then our family company was a Zephyr 4 for a while. That engine saw kitcar use too, as Marcos used it in the 2-litre model of 1969.
Anyway, I digress. However, I think I can be forgiven for reminiscing as it was all the fault of a press release from the American V4 division of Alabama-based Motus Motorcycles. The company founded by Lee Conn and Brian Case More >
I use a lot of different car care products and tend to have a go-to list made up of favourite products from a variety of manufacturers.
However, there are specific ranges that I solely use when I am a doing a deep clean on one of my own cars or that of a family member or friend. Car Pro UK is one such range and there are about ten or so of those products that I use religiously in such circumstances.
Car Pro is a South Korean brand but their UK range contains some specific products designed for our market and climate More >
We're all familiar with the benefits of fitting an electric cooling fan; the parasitic drag caused by an engine-driven fan is eliminated and a thermostatic control enables the fan to only operate only when it's actually needed. However, finding all the necessary parts and ensuring they are all compatible and work together can be a pain.
Now, kitcar owners can take advantage of these specifically designed Revotec complete kits from Burton Power.
The kits include the fan itself plus bespoke laser cut aluminium brackets that mount to the body through the original radiator mounting bolt holes. This makes for a far neater More >

Two new products from exciting new car care brand, Aenso are Animate, an insect remover and Primeuse, a pre-wash degreaser.
Animate, is a pH-neutral and powerful bug remover be they dried or freshly splattered and gets straight work on application, without the need for scrubbing through your clear coat! I reckon it'll also be good for bird poo, too. A 500ml bottle costs £12.14.
Meanwhile, Primeuse, is an effective and downright impressive pre-cleaner, which is ideal for getting rid of heavy soiling and/or basically prepping the car's bodywork for the shampoo washing stage. A 500ml bottle costs £13.72.
More information via www.aenso.co.uk ENDS.
More >