STEVE SAYS – FRIDAY, JUNE 23, 2022
A very warm welcome to totalkitcar online … Goodwood Festival of Speed time and when I was writing this piece, I noticed a great quote on the event from ex-Red Bull F1 driver, Mark Webber and I thought I'd reproduce it here as I think it's very descriptive: 
"We've got kids, we've got granddad here, mum and dad… It's the best event in the world and I don't know who's second, but it's a long, long way behind."
No need to describe the whole event here other than to say that there's a good number of new car launches and amongst the army of exhibitors you'll find several kitcar manufacturers waving the flag and doing the industry proud. 
This year's central feature – outside Goodwood House – is one of the strongest yet, especially if, like me, you are a BMW fan. It celebrates fifty years of BMW's M division and highlights some of the most iconic cars to wear the three stripes.
There's a car for each of the five decades (Must have been a very hard choice, that)  
This year, we are celebrating BMW M's 50th Anniversary, and what a run it's been. In half a Century, those famous three stripes have adorned some of the world's best road and racing cars, from the E30 M3 to the V12 LMR Le Mans winner.
The headline act is arguably the newest, BMW's LMDh racing car, primed for its debut in the IMSA sportscar championship in 2024 and a possible return to Le Mans: the M Hybrid V8. It's joined quite rightly by its V12 LMR ancestor (BMW's last outright Le Mans winner), alongside BMW M's first creation – the 3.0 CSL 'Batmobile' – an M1 Procar, and a WTCC M 320si.
It's a brilliant selection of icons that proves just how important BMW M has been for the automotive industry. Have fun if you are going to the event.
More from www.goodwood.com.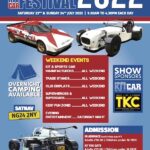 UPDATE COMING – We've started to introduce some new features to the site. Up on the MENU bar above.
IF YOU LIKE CLASSIC KITCARS & SPECIALS you are in luck. Clicking that button will take back in time with features on old kitcars, personalities and generally interesting companies who worked within the specialist car movement. This week's feature is a retrospective look at period van kits, in particular the products produced by FLEUR DE LYS.
Their products were first class, they had a great back story and it just so happened that the late LEN TERRY worked there between 1985-1993. It's a great read – the-history-of-fleur-de-lys-vehicle-manufacturing.
Anyway, we have a refresh upcoming for the website, along with the much-anticipated return of our GOODS & SUPPLIERS A-Z listing.
We'll still be keeping all the regular stuff, so we'll be adding and tweaking rather than taking stuff away and messing so keep an eye out in the coming months. I hope you like the amendments we're making.
BLATANT PLUG – YOU CAN SUBSCRIBE TO TKC MAG BY CLICKING HERE.
WE'VE JUST (FINALLY!) UPDATED OUR WHAT'S ON 2022 LIST. THERE ARE SOME 2023 DATES ON THERE, TOO. CLICK HERE TO GO THERE.  
 JULY/AUGUST 2022 AVAILABLE TO ORDER NOW. VISIT – https://bit.ly/3HOq4c7 
AK 40 – The latest model to join the AK Sports Cars stable is the GT40 replica formerly produced by Southern GT. We sent STEVE BENNETT along to find out more.
CATERHAM 170R – A new entry-level Caterham Seven model that despite only having 85bhp will still show a clean pair of heels to most daily drivers, while the little three-pot Suzuki engine is a beauty.
READER'S DRIVE – KARA 430 – As a fan of Group B rally cars, NEIL WINNINGTON was very keen to go and see David Bonning and take a close look at his KaRa RS200 replica.
THE TKC MAG GUIDE TO SUSPENSION SPRINGS – BOING! Who else but JAMIE KING could have written this one. A follow-up to his recent feature on dampers. It's a good one. The message here is that it is vital to match your suspension springs to your dampers.
WITHOUT OUR PAST! – Four more beautiful old archive photos hand-picked from our archive.
INDUSTRY GREATS – RADBOURNE-ABARTH HISTORY – I've seen loads of good stuff written about Radbourne Racing over the years, many of them written by my esteemed colleague Richard Heseltine, but I felt that it was high time that we told the full in-depth story of this marvellous sixties company. In case you didn't know, Radbourne built a variety of ABARTH models under licence – more than you think – and sold them in the UK. Several of them were available in kit form, too. STEVE HOLE tells the story after sitting down with the last surviving founder, Lincoln Small.
MIKE KEELEY'S THREE-WHEELED SPECIAL – Mike Keeley used to work at Westfield during which time he built 100 examples of the breed. More recently he's built two jewel-like three-wheelers, the second of which is featured here after our resident three-wheeler fan, JAMES COLMAN went to visit him.
HISTORIC HAWKS – We speak to several Hawk Cars owners who still own the kits they built way over 30 years ago.
NIGEL DEAN'S ULTIMATE ULTIMA BUILD – PART TWO – The 'detail' man is back with part two of his ultimate Ultima build.
FIND US IN GOOD NEWSAGENTS (and bad ones too, no doubt!) OR ORDER YOUR COPY VIA MAIL ORDER NOW… CLICK HERE.
FROM THE ARCHIVES … CURSOR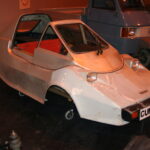 After finishing with his Bugatti replicas, Alan Hatswell of Replicar did produce a Bugatti-inspired trike, which can be described as the 'pre-Cursor' to this quirky-looking space-age device, which was a microcar (classed as a light or cycle car) that could be driven on the public highway by 16-year olds with power comin 
The body was glassfibre available in a variety of gelcoat colours topping off a tubular steel chassis. Its price of £2200 probably didn't help it when you consider that a moped cost around £1000 at the time.
Hatswell exclaimed that the impact of the Cursor once driven would be the same as the arrival of the Mini had been in 1959!  He also described it as a 'GT hatchback convertible'.
Curiously, the majority of the production was exported to Austria. Fifty single-seaters and 57 of the larger two-seat, Suzuki CP50-powered two-seaters, found homes. The project was sold to a Belgian company but it was never seen again.
Replicar 1985-87
Approx 107 made
Our popular TRACKDAY CALENDAR is where you can find out where, when and how much by CLICKING HERE. Now updated to cover June, July and August 2022.
SNIPPETS 1…….. Sunday, August 14 will see the 55th anniversary of the Davrian marque taking place at the Cotswold Wildlife Park, Burford as part of the Historic Specials Day organised by the Fairthorpe Sports Car Club.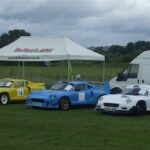 More information from www.john.rawlins.com.
SNIPPETS 2……..Our friends at XCP Protection are kindly offering totalkitcar/TKC MAG readers a 10 per cent discount on their brilliant THE ONE penetrating spray courtesy of one of their key retailers. All you have to do to obtain your discount is visit.
www.mad4bikes.com and at checkout input the code 'TKCXCP10′.
Thanks to Scott at XCP and the good guys at Mad4bikes for this.
SNIPPETS 3……..The latest replica to break cover isn't available in kit form but does feature electric power. The car hails from Upper Heyford-based conversion company, Everrati Automotive.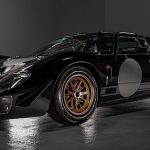 They are using a Superformance GT40 Mk2 replica as the basis for the electric '40 which features a heavily-revised chassis and power of 800bhp, along with a claimed range of 125 miles. 
I think this one might split the purists as for many a GT40 needs an iron block Ford V8 but there's no doubt about the quality of Everrati's work with electric motors and the fact it weighs around 1300kg along with the equivalent of 800bhp means that it will be blisteringly fast. More from www.everatti.com.
SNIPPETS 4……..SPECIAL OFFER: 12 months FREE Total Motor Assist for all
totalkitcar.com readers!
Designed to plug the gaps in motor insurance, this multi-car package for you and your family sits alongside your insurance and gives you vital extra services, including:
UK-wide accident recovery 
UK-wide accident recovery
Approved accident repair
Like-for-like replacement car
Private treatment for injury
Specialist legal support
Saves you from paying any excess
Helps protect your no claims
24/7 UK-based helpline
Trusted by thousands of members and over 150 organisations, we're delighted to invite you to join free today at https://tkc.assistprotect.co.uk. 
Now with free cycling support and property damage repair as well when you join!
STEVO'S BEER TIP – MAD SQUIRREL BREWERY – FIESTA MARGARITA GOES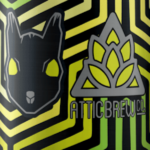 CHAMPIONING THE BEERS OF THE UK'S BRILLIANT CRAFT – AND MICRO-BREWERIES
Nothing like enjoying a beer after an afternoon in the garage or following a drive out. OBVIOUSLY, we don't condone or promote drink driving at totalkitcar.com/TKC MAG but once the driving is done there's nothing like a quality drop of real ale
Here's a corker. A joint effort this week in the shape of a collaboration between Mad Squirrel Brewery and Attic Brew Co. Fiesta Margarita Goes is an achingly moreish beer of 5.7% ABV with a unique lime meets tequila-soaked woodchips which give it a proper Mexican feel – and taste.
The heavy citrus notes with a hint of salt make it a pretty good impression of a full-on margarita cocktail!
Ideal with a plate of loaded nachos and a beef burrito! More from www.madsquireelbrew.co.uk.
That's about it from me this week, so, until next Friday, June 30 have a great week, enjoy life and enjoy your leisure motoring.
Best regards 
Steve
| | | |
| --- | --- | --- |
| | Print article | This entry was posted by admin on June 23, 2022 at 7:08 pm, and is filed under Steve Says. Follow any responses to this post through RSS 2.0. Both comments and pings are currently closed. |
Comments are closed.