STEVE SAYS – FRIDAY, JANUARY 14, 2022
A very warm welcome to totalkitcar online … I love spending time in my photo archive. Much like I do with cooking and playing the guitar, I find it therapeutic not to mention a great reminder of days gone by.
Easy to get a bit melancholic too as some days all I seem to land on is images of former good friends who are no longer with us, although the photo invariably reminds me of sharing happy times with them.
Of course, Carol doesn't really 'get it'. She reckons I hide in there and waste too much time looking at old photos. I don't agree. Obviously. However, minutes do seem to turn into hours quite quickly.
Anyway, I was researching V8 engines this afternoon for a feature I'm researching and was enthralled at a couple of files marked 'Chevy V8' and another marked 'Ford V8'. They related to a piece that Peter Filby had published way back in the early nineties and basically concerned Chevy 350 and Ford 351 threatening the dominance of the Rover V8 engine in kitcars. Those old push-rod V8s seemed so exotic back then.
What struck me was that 'colossal' power figures of 350bhp were being marvelled at. Now, don't get me wrong. I don't care how little power a V8 has, the sound of it is enough to do it for me. In any case, 350bhp is more than capable of costing you a few quid in speeding fines not to mention 12 points and danger of losing your driving licence for a time.
However, what amazes me is how far we've come. Even though 2030 is approaching, don't forget that low volume and kitcar manufacturers have an exemption, I think while the major manufacturers' performance arms can they are making hay.
For example, General Motors is about to launch the most powerful bad boy crate motor ever in the shape of the Chevy ZZ632 big-block V8. A monster at 10.3-litres.
It has a clutch busting 876bhp lb-ft of torque and get this, 1004bhp right out of the box and revs to well over 6600rpm. Prices haven't been announced yet but I believe that GM's official UK importer, Parts World Performance have them on order. If you are planning on sticking one into a Cobra replica then PLEASE GET IN TOUCH.
It shares a mould with the ZZ572 V8 which itself produces a none too shabby 727bhp. The previous king of GM's crate motor power hill, the LT5 (755bhp) has been discontinued. They do still offer the LSX-454 and the LSX-454R, producing 627bhp and 700bhp, respectively.
Meanwhile, in Ford Performance-land the Godzilla is the boss., although cannot get anywhere near the ZZ632 in power terms as it produced 'only' 760bhpo out of the crate.
The 5.2-litre crate engine is pretty much as fitted to the Mustang GT500 and the 5.2-litre engine features twin Eaton R2650 superchargers. It's dear though. It'll set our US readers back over $26,000, so I can only imagine what the UK price will be.
You can still buy the lovely Coyote V8, plus the twin-turbo Raptor version and its more powerful brother the Power Stroke. I also note with interest that Ford Performance now sell an electric crate engine in the form of the Mustang Mach-E GT unit, although their Eluminator electric crate motor sold out in days. Ford offers the Aluminator line-up of Coyote derived units.
Our friends at PowerTorque Engineering will undoubtedly be able to help you with all your Ford Performance enquiries.
Although I've only ever driven one kitcar powered by a Hemi 426 V8 (in a Dax Toj) it was brilliant so as a completist and a Mopar fan I thought I'd round the crate motor 2022 round up off with info on the latest bonkers Hemi engines from Mopar Warehouse.
They have five main crate V8s. The 5.7-litre rated at 385bhp and the 6.4-litre version delivering 485bhp. Then things started to get mad with supercharged units. The Hellcrate 426 engine (from $20,000) packs 707bhp, then comes the new Hellcrate Red Eye that produces 807bhp. Finally, and rivalling Chevy's ZZ632 is the Hellephant 426, a stonking unit at $30,000 and 1000bhp!
So, there you have it. Ford, GM and Chrysler's performance divisions have taken off the shackles and launching out-and-out monster crate motors, while they still can.
BLATANT PLUG – YOU CAN SUBSCRIBE TO TKC MAG BY CLICKING HERE. Just £29 for a year's entertainment.
The JANUARY/FEBRUARY 2022 ISSUE OF TKC MAG is out NOW.
TORNADO GT40 REPLICA – This beautiful Tornado GT40 replica is the first car built by owner, Dave Broome. Not many take on a GT40 as a 'virgin' build but Dave did and he reckons it was like a 'great big Airfix' kit. We tell the story of Dave's build and the history of Andy Sheldon's Tornado Sportscars.
DUTTON REEF – With a total north of 8000 conventional kitcars, Tim Dutton is rapidly nearing 300 amphibious ones. Indeed, by the time you read this he could well have exceeded it. We recently sampled a Ford Fiesta-based Reef.
READER'S BUILD – BARRY BOUGHTON'S AK427 – We featured Barry's build at regular intervals during its gestation period and now that the car is finished we take a look at the finished article. Not to give too much away but it is STUNNING…
GBS ZERO MOTUL EDITION – This is the result when one of the world's leading lubricant manufacturers and one of the leading kitcar makers join forces. The GBS Zero 'Motul Edition'.
THE TKC MAG GUIDE TO THE FORD CROSSFLOW ENGINE – Jamie King is our guide and looks at the venerable engine's history, how to tune it and how to upgrade it.  
WITHOUT OUR PAST! – Great response to this new feature last issue so we revisit the archive again for some stunning old black and white images.
REMEMBERING THE BIOTA – Until a few years ago the Mini-based Biota was seen as a bit of a novelty item from the sixties. Then, all of a sudden, the car began to make more sense and everyone began to recognise the skills of its creator, John Houghton. Here's the story of the Biota …
INTRODUCING – WASABI CAR CARE – A small, boutique car care company from East Sussex, who make a very cool range of value for money products.
BLACKWELL SPR1 COUPE – Blackwell Sports Cars is one of the most underrated kitcar manufacturers as is their Mazda MX-5-based body conversion.
IN PROFILE – SPARTAN MOTOR COMPANY – It's easy to forget that for a 20-year period Jim McIntyre's Spartan Motor Co was competing with Dutton Cars at the top of the kitcar industry's sales charts, with some 4000 Spartans finding homes.
FIND US IN GOOD NEWSAGENTS (and bad ones too, no doubt!) OR ORDER YOUR COPY VIA MAIL ORDER NOW… CLICK HERE.
FROM THE ARCHIVES … PUB LOTUS
I've been doing loads of Lotus-related research lately for a project I'm working on and there are some real gems lurking in Lotus' past. Take Pub Lotus, for instance. 
It opened on December 15, 1970 after an agreement between the inimitable Lotus sales director, Graham Arnold and the owners of the hitherto Chalk Farm Tavern, Bass Charrington. The opening night was even broadcast live on BBC TV's 'Wheelbase' programme.
Luminaries like Colin Chapman and Stirling Moss rubbed shoulders with the likes of England football captain, Bobby Moore. There was even an F1 car planted in the garden! There was also an area called The Seven Snack Bar.
This must have been nirvana for Lotus enthusiasts of the day as it featured ephemera related to the marque adorning the walls plus tables made from Lotus wheels and stools that were fashioned from Europa bucket seats.
Beer handpumps were Lotus Elan gearknobs, while on the tables were triangular plates and ashtrays with drivers signatures on them. I bet they had a load of pilferage!
Meanwhile, adorning the walls were Lotus steering wheels and other memorabilia.
When Graham Nearn finally did the deal to purchase the rights to the Lotus Seven a high-profile hand-over ceremony with Colin Chapman took place at Pub Lotus in June 1973. 
It struggled on until 1979 when it had a revamp and reverted back to its old name before finally closing as a public house in 1992. Since then it has been a Greek restaurant and a wine bar called 'Lomania'.
Fascinating stuff.
Our popular TRACKDAY CALENDAR is where you can find out where, when and how much by CLICKING HERE. Now updated to cover January and February events.
SNIPPETS 1…….. Great British Sportscars has announced the date of the first Cars & Coffee event (now sponsored by A-Plan Insurance, incidentally), which will take place on Saturday, March 19. More from www.greatbritishsportscars.co.uk.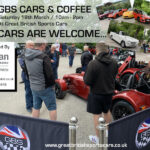 SNIPPETS 2…….. Brooklands Museum will return to the nation's TV screens on Tuesday, February 1 February at 8pm on the Yesterday channel (catch-up on UKTV Play) – as the hugely popular 'Secrets of the Transport Museum' returns for a second series. The first ten-episode series, produced by Middlechild Productions for UKTV and filmed at the iconic motorsport and aviation venue in Surrey, brought to life the stories of pioneers both past and present that continue to make Brooklands a mecca for so many.
Series one launched strongly for the channel in March 2020, opening with a consolidated audience of 558,000.
Brooklands has been the home of innumerable innovations over its 114-year history, epitomised by the two outright lap record holders, the Napier-Railton on four wheels and Brough Superior on two. In episode five we marvel at these feats of engineering as, for the first time, these two Titans square off against each other.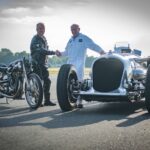 Tamalie Newbery, Brooklands Museum CEO: "Secrets of the Transport Museum has provided us with a wonderful opportunity to show the world some of the dedicated volunteers we have at the museum, and celebrate the unique stories of British innovation, endeavour and entrepreneurship at Brooklands, both past and present. 
"The huge success of the first series shows how Brooklands continues to resonate with people today as we face the biggest shake-up of the automotive and aviation industry since their inception. I am looking forward to seeing the reaction to some of the amazing stories series two will tell."
More from www.brooklandsmuseum.com.
SNIPPETS 3……..SPECIAL OFFER: 12 months FREE Total Motor Assist for all totalkitcar.com readers!
Designed to plug the gaps in motor insurance, this multi-car package for you and your family sits alongside your insurance and gives you vital extra services, including:
UK-wide accident recovery
Approved accident repair
Like-for-like replacement car
Private treatment for injury
Specialist legal support
Saves you from paying any excess
Helps protect your no claims
24/7 UK-based helpline
Trusted by thousands of members and over 150 organisations, we're delighted to invite you to join free today at https://tkc.assistprotect.co.uk.
Now with free cycling support and property damage repair as well when you join!
STEVO'S BEER TIP – THORNBRIDGE BREWERY – LORD MARPLES
Nothing like enjoying a beer after an afternoon in the garage or following a drive out. OBVIOUSLY, we don't condone or promote drink driving at totalkitcar.com/TKC MAG but once the driving is done there's nothing like a quality drop of real ale.
With the Radius Arms well into their 'Drink The Pub Dry January' campaign there's plenty of quality brews to sample. One that found favour with me this week comes from Bakewell-based Thornbridge Brewery and is Lord Marples, a classic bitter of 4% ABV. 
A lovely mahogany colour, it has hints of honey and caramel before finishing with very slight bitterness. More from www.thornbridgebrewery.co.uk or www.theradiusarms.co.uk.
That's about it from me this week, so until next Friday, JANUARY 21, have a great week, enjoy life and enjoy your leisure motoring.
Best regards 
Steve
| | | |
| --- | --- | --- |
| | Print article | This entry was posted by admin on January 13, 2022 at 7:58 pm, and is filed under Steve Says. Follow any responses to this post through RSS 2.0. Both comments and pings are currently closed. |
Comments are closed.