STEVE SAYS – FRIDAY, SEPTEMBER 10, 2021
A VERY warm welcome to totalkitcar online … After speaking to manufacturers at Stoneleigh recently and others via phone and email subsequently, the industry certainly seems to be in very good shape as we enter the last few months of 2021.
Order and enquiries for kits and fully built cars are healthy and some have waiting lists creeping over two years for turnkeys. One told me that a chap wanted to shorten the 30-month wait for a full build so decided to go the DIY route and build it from a kit package thinking he could have said package in a few days! Wrong, he was quoted over six months!
It's a nice problem for manufacturers to have so long as waiting lists don't creep up to the fabled seven years once quoted by Morgan and it's true to say that not everyone has fifteen cars and ten kits on order as when we get outside the top twenty kitcar manufacturers we're often looking at one-man operations. However, even a lot of these concerns are working like trojans to get kits out of the unit door or struggling time to devote to the one or two full builds they have orders for.
As I said, it's a lovely problem for the industry to have and well overdue as there have been periods over the last thirty or so years when people have wondered where the next order was coming from. Another thing we are good at as an industry is being able to bounce back. For example, think of the impact that the imposition of VAT and SVA to name but two major things had on kitcar sales before the dust settled, as it always surely does.
I cannot announce it yet – sworn to secrecy – but one of the industry's top ten manufacturers from ten to fifteen years ago is poised for an all guns blazing return, albeit under new ownership and now toting electric power rather than petrol engines. As soon as I get the green light, you'll read about it here. I've already been to see the manufacturer concerned and it really is an exciting return … 
Crikey, thinking about it there's another returnee coming soon. A Subaru Impreza-based one. More soon.
KITCAR ENTHUSIASTS TAKING THEIR CARS TO EUROPE WILL NO LONGER REQUIRE AN INSURANCE GREEN CARD.
The Post-Brexit requirement has now been dropped thankfully. Prior to the pandemic that will not be named UK residents made an amazing 12.6-million trips to Europe each year.
By the way, from September 26, you can wave goodbye to 'GB' stickers when travelling abroad as they are being replaced by 'UK' ones.
The SEPTEMBER/OCTOBER 2021 ISSUE OF TKC MAG is in the shops NOW, as well as on all digital platforms. It is available for MAIL ORDER via our online shop NOW – CLICK HERE.
INCIDENTALLY, YOU CAN ALSO SUBSCRIBE TO THE MAG BY CLICKING HERE.
MST MK2 – We sent NEIL WINNINGTON off to North Wales to take a look at the brand-new MST Mk2 from Motorsport Tools. It is also available as a kit. Neil liked it so much he's now saving his 5p pieces! 
RAW STRIKER – The brilliant Striker and Phoenix along with the Fulcrum, formerly made by RAW Striker Ltd are now being made by MK Sportscars.
SPARTAN OUTLAW 356 COUPE BUILD – PART THREE – Chris Holdsworth continues his superb build series.  
JOHN FRAYLING TRIBUTE – Sad to hear about the death of famed former Lotus designer (and much else besides, including the Clan Crusader) recently. Here's our tribute to the publicity-shy, designer. 
THE TKC MAG GUIDE TO THE TOP TEN HILLMAN IMP-BASED KITCARS – When compared to the VW Beetle or Ford Sierra there hasn't been a massive amount of Hillman Imp-based kitcars but among their number are some real classics. Here's our TOP TEN.
OPEN TRACK PROFILE – We sat down for a natter with Open Track head man, Dave Woodall to find out what makes a successful trackday operator and they don't come much better than open track.
DESTINATION VENUES – GREAT BRITISH CAR JOURNEY – Richard Usher founded the brilliant Blyton Park and ran it successfully for many years and back in June he launched his latest venture, Great British Car Journey in Derbyshire. A car museum with a real difference. We were there for the launch.
INTRODUCING – MEACO DRY ARETE ONE – A superb new product from Meaco. A new take on the domestic/garage dehumidifier.
COUNTY-BY-COUNTY – DEVON – Our geographical series takes a trip to the West Country this issue and looks at the considerable kitcar history of DEVON.
ALL YOU NEED TO KNOW ABOUT THE FORD ECOBOOST 1-LITRE 'FOX' ENGINE – Our man who knows about such things, JAMIE KING is our guide to maintaining, repairing and tuning the 1-litre EcoBoost engine.
BROOKE CARS PROFILE – Toby Sutton is an artisan, producing beautiful furniture and models of classic cars carved out of walnut. Back in the eighties he also had a go at making kitcars, with a trilogy of models – the most successful being the ME190. We look back in time.
TRABANT – FRIEND OR FOE? The editor is lusting after a Trabant. Foolish or inspired? Let's take a closer look at the much-maligned East German bolide.
FIND US IN GOOD NEWSAGENTS (and bad ones too, no doubt!) OR ORDER YOUR COPY VIA MAIL ORDER NOW… CLICK HERE.
FROM THE ARCHIVES … MCLAREN MG GT (Original and replicas)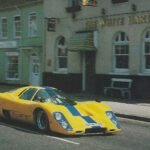 As a huge fan of Can-Am, Denny 'The Bear' Hulme and Trojan Cars, I've always had a love of the McLaren M6 and the roadgoing M6 GT version.
The M6A was McLaren's first monocoque and stormed the Can-Am championship in 1967, with Bruce McLaren (indeed he and Hulme would share the next three seasons in the M8) although when McLaren struggled to keep up with the demands of the F1 programme they continued to produce the 'works' M6s until it was superseded by the M8.
However, they were prepared to sell customer versions – dubbed the M6B – and engaged the services of Croydon-based Trojan Cars to build them. The cars would be offered complete less engine and transaxle.
When the FIA announced the new Group 4 class for the World Sportscar Championship, McLaren fancied a crack at it with a new version of the M6 called the M6 GT.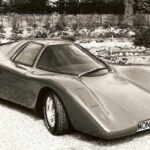 It had a coupe body of the M6 that was welded to the M6A – or M6B – monocoque. The FIA scuppered Bruce's plans however by demanding that to obtain homologation at least fifty examples had to be sold.
McLaren Cars could afford to build the monocoques but not the Chevy V8 engine and ZF transaxle combos, so the idea was parked.
However, McLaren wasn't done with the M6 GT and decided to have Peter Agg's team at Trojan (Elva's Frank Nichols was involved in the project) produce some roadgoing versions.
In the end, they made four – two in red, one in yellow and another in McLaren's iconic orange. Bruce used a red one as his daily driver and he is said to have driven it on the road as if he was racing it.
It was cramped, hotter than hell in the cockpit and totally impractical and unsuitable as a road car but it did have a Bartz-tuned Chevy Lt1 producing 370bhp and could do 165mph!
When Bruce Mclaren died at Goodwood while testing an M8D on June 3, 1970 (aged just 32) his beloved M6 GT idea wasn't progressed further. A driver called David Prophet raced one of the four M6 GTs with success into the seventies.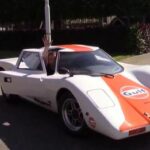 Then in the early eighties, Hugh Drinkwater's Northdown Racing of Woking resurrected the McLaren M6 GT using original moulds and tooling offering both road and track versions. It's not known how long they produced them and how many they made, though.
The kitcar industry has had a couple of goes at the M6 concept. Tornado Cars – Alan and Andrew Sheldon – produced a superb replica with a spaceframe chassis (before they started making the GT40 replica they've become famous for) and UVA, initially imported the US-made Montage before coming up with their own M6 GTR version.
Our popular TRACKDAY CALENDAR is back and you can find out where, when and how much by CLICKING HERE. NOW UPDATED WITH SEPTEMBER AND OCTOBER DATES.
SNIPPETS 1……..Great British Sports Cars has announced their next Cars & Coffee event will be held on Saturday, October 2. These events have become firm favourites and always attract a decent crowd and not just a gathering of GBS Zeros and Robin Hoods. All are welcome, you'll find coffee and cake all they ask for is you chuck a few coins into their charity box to help support their chosen charities. More from www.greatbritishsportscars.co.uk.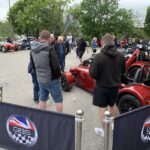 SNIPPETS 2……..AC Cars has unveiled the AC Ace RS electric, continuing the company's return and reaffirming its approach to providing highly evocative, hand-built cars with high-performance zero-emission powertrains.  
Restored for the first time in over two decades as an official AC Cars model and retaining the iconic shape of the original, the new AC Ace RS electric is a true thoroughbred in keeping with the lineage of the iconic brand.
A world away from messy conversions using off the shelf parts, the AC Ace RS electric is a brand-new production car that delivers precision British engineering with a specifically developed cutting-edge electric drivetrain.
Despite its classic styling, the new AC will deliver a 0-62mph time of around 5.5-secs and 500Nm of torque (peak), ensuring that it's in a different performance league to the Ace of old. The AC Ace RS electric will achieve around 200 emissions-free miles on a single charge. 
Named in honour of the original car's final iteration, the AC Ace RS, just 37 Founders Editions of the AC Ace RS electric are planned, starting at £129,500.
Alan Lubinsky, Chief Executive of AC Cars for 25 years said: "Our move to electric power has proved to be more important for the brand than anything else we've attempted before. The combination of our pedigree with a new, fully electric drivetrain means that we're ready to offer brand new cars that are undeniably historic in character yet thoroughly modern in their powertrain and performance.
"The interest around the world in our new electric cars from has been tremendous and has proved that developing a bespoke EV powertrain is the right approach in ensuring the future success of AC Cars."
The original AC Ace was launched in 1954 and stayed in production until 1962, capturing enthusiasts' attention with its undeniable beauty and spirited performance. In turn, the Ace led directly to the development of the formidable AC Cobra.
The new car will wear an AC Cars chassis number, ensuring the AC Ace RS electric reaffirms the marque's traditional values and delivers customers an expertly crafted, brand new electric car.
Using the more advanced Mk IV AC chassis, the new cars will be hand-built under the watchful eye of Steve Gray, Head of AC Heritage. Based at Brooklands, Surrey, Steve and the specialist team will be responsible for tailoring each car to the owner's specification.
Once again AC Cars has worked with Derby-based technical partner Falcon Electric, to ensure that the integration of EV technology remains wholly in keeping with the personality and performance that made AC's cars admired around the world.
Deliveries of the first customer cars will start in late 2022, and reservations can be made now via the AC Cars website at www.accars.eu.
SNIPPETS 3……..SPECIAL OFFER: 12 months FREE Total Motor Assist for all totalkitcar.com readers!
Designed to plug the gaps in motor insurance, this multi-car package for you and your family sits alongside your insurance and gives you vital extra services, including:
UK-wide accident recovery
Approved accident repair
Like-for-like replacement car
Private treatment for injury
Specialist legal support
Saves you from paying any excess
Helps protect your no claims
24/7 UK-based helpline
Trusted by thousands of members and over 150 organisations, we're delighted to invite you to join free today at https://tkc.assistprotect.co.uk.
Now with free cycling support and property damage repair as well when you join!
STEVO'S BEER TIP – WEIHENSTEPHANER HEFE WHEAT BEER
Time for another beer tip this week. I do love a German wheat beer (has to be the 'cloudy' one) and I guess my favourite would have to be Erdinger but running it close – and now sold by Sainsbury's! – is Weihenstephaner – said to be the world's oldest brewery founded in 1040 (they actually brew about seven wheat beers but I think we only get the Hefe Wheat beer. Highly recommended, very refreshing and I hope you enjoy it – visit www.weihenstephaner.de.
So, that's about it from me for this week, so until next week Friday, September 10. I'll leave you to enjoy the site, pausing just to wish you a great seven days.
Best regards 
Steve
| | | |
| --- | --- | --- |
| | Print article | This entry was posted by admin on September 9, 2021 at 6:48 pm, and is filed under Steve Says. Follow any responses to this post through RSS 2.0. Both comments and pings are currently closed. |
Comments are closed.