STEVE SAYS – FRIDAY, MAY 22, 2020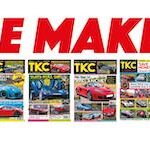 A warm welcome to totalkitcar online … I hope you've been having a good week. We have just announced this year's SPECIAL OPS 'extra' issue, which is called CLASSIC KIT CARS & SPECIALS, so the content matter is pretty obvious.
All features are brand new and NOT reprints but we have delved into our photo archive, the most extensive and detailed in the industry dating back to the fifties. I'd like to think if I'm looking for an obscure kitcar then I'll find at least one print in the file…
Why a classic flavour? Well, by public demand really. You are telling me you are liking the archive content we run, dear reader, so we decided to pursue that idea properly. I think it also helps that (even though it makes me feel so old!) I was around when the companies we feature in the mag were active and know the people involved and more than likely drove at least one of their cars. As I said that makes me feel OLD!
Why Classic Kit Cars & Specials? Simple really. When I started in this magazine game in 1984 (what was I saying about being old?) I started on a fledgeling mag called KIT CARS & SPECIALS and the people I met back then, the people I worked with, the laughs I had, have stayed with me ever since. Real formative stuff.
I also learnt how to drink at that time. Corrupted by bigger boys, I was!
The mag is available for PRE-ORDER now and will be shipped in late July.
RRP is £7.99 but if you pre-order it NOW you can take £1 off and benefit from FREE POSTAGE (UK). We'll happily ship overseas, of course, but Airmail cost preclude us from sending it free, I'm afraid.
CLICK HERE. To reserve your copy NOW.
SUBSCRIBE
IF YOU ARE LOOKING FOR ENTERTAINMENT NOW IS A GOOD TIME TO CATCH UP ON SOME READING. WE'VE GOT A SPECIAL SUBSCRIPTION OFFER (UK ONLY) OF £24 INSTEAD OF THE USUAL £29 YEARLY RATE.
YOU CAN GET THAT BY CLICKING HERE.
Alternatively, download our FREE APP and buy a digital edition of TKC MAG (you can also go to www.pocketmags.com and type in 'tkc magazine' or 'totalkitcar').
LET'S GO DOWN TO TRIVIA CORNER – RALEIGH CHOPPER
A couple of requests for more information on the origins of the iconic Raleigh Chopper.
It was the brainchild of Raleigh's director of sales, the late Alan Oakley (1927-2012) and he was inspired after a trip to a toy fair in San Diego in 1967. Some reports say that he designed the subsequent Chopper ('The Hot One') but he didn't as it was penned by the gentleman that is Dr Tom Karen, while he was in charge at Ogle Design.
It was inspired by Peter Fonda, dragsters, chopper motorcycles and handlebar tassels and the like including inspiration from the American Schwinn Sting-Ray of 1964.
The Mk1 was launched in 1970 and was given an amazing reception. Interestingly, it had debuted in the USA in 1969 but didn't prove to be a good seller, there.
To me, it's the classic model, with its 20in rear tyre and skinny 16in front. As kids, we used to fold up cardboard and attach it to the rear wheel's spokes using a wooden clothes peg so it gave us an 'authentic' (ahem) engine sound! We were only ten!
On launch, it cost £32.90 (£355.82 in today's money) and had the longer bench seat with the high back and round gearknob (just like the one on my dad's Mk3 Cortina GT!) although they were changed for the Mk2 version of 1972. Too many little boys had slid off that seat and landed painfully on the gearknob! I can vouch for that.
A Mk1 special edition that is highly sought-after today is a ten-speed version that was available for about a year, while a special run-out higher back seat was available in 1971
So, the Mk2 had a shorter seat and a 'T-Bar' type gearknob, probably safer but not as sexy in my view.
There were Mk2 specials too, with a Sprint model (Flamboyant Green and Flamboyant Tangerine only 1972-73) and a five-speed (1973-76) version.
There was also a highly prized Pearl Silver edition (1976-77) released to commemorate 750,000 sales and hens' teeth, 9ct Gold limited edition model to celebrate 1 million sales.
By the time the original Mk2 had gone out of production in 1980 Raleigh had sold some 1.5 million of them.
Mk1 colours were: Brilliant Orange, Horizon Blue, Flamboyant Green, Purple (ULTRA RARE that one), Targa Mustard and Royal Carmine (Red).
Mk2 colours were: Infra Red, Ultra Violet, Space Blue, Pearl Silver aka Quicksilver, Lemon Yellow, Jet Black and Dusky Pink (five-speed version only).
The MAY/JUNE 2020 issue of TKC MAG is OUT NOW.
Our 'Keep Calm & Carry On' issue has plenty of lockdown reading entertainment for you.
The front cover star is a 35-year old Spyder Silverstone that still looks box fresh.
We also have a look at the Kougar Sports, which is still available via Simon Dunford at Classic Jaguar Racing contrary to what many may think.
Revered racecar marque, Chevron, founded by the late Derek Bennett once had a spell (under the late Roger Andreason) offering their glorious B8 and B16 in kit form, while they also marketed an intriguing little Metro-based Pick up called the Pick Me Up.
We also have a full history file on the Lomax marque, once one of the UK's leading kitcar manufacturers. It's an in-depth twelve pager that we hope you'll enjoy.
Prior to Boris bringing the shutters down, we paid a visit to the Hinckley home of The Machine Shop. If you live within a stone's chucking distance and need access to some workshop space you should contact their bossman, Bob Teahan. He could well be onto something.
We also have a couple of second instalments too. Part two of Jon Hill's excellent guide on how to fold sheet metal, while Paul Whitehead concludes his Crendon CR427 build.
Our surprise success story, the geographical files called County-by-County heads to Cambridgeshire this issue and highlights every kit and specialist car maker (we think) to have been based in the county.
Add in, some of the best new car care products, Nigel 'Detail' Dean's essential tips and all the best new products and we truly hope we have something which to really entertain you. 
FIND US IN GOOD NEWSAGENTS (and bad ones too, no doubt!) OR ORDER YOUR COPY VIA MAIL ORDER NOW…UK CUSTOMERS HERE or MAINLAND EUROPE HERE or REST OF THE WORLD, HERE (this includes Australia, New Zealand, Japan and North America).
CURRENTLY POST-FREE FOR UK CUSTOMERS
FROM THE ARCHIVES – BEAUDET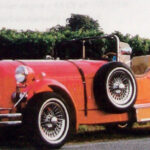 Here's an amazingly rare and obscure one for you.
The Beaudet was a quirky-looking traditional roadster produced in Saint Andrée de Cubzac (just north of Bordeaux). It was based on a Peugeot 505 donor and used a 2-litre engine from the same source. It was the work of Franck Beaudet. It was offered for sale very briefly in the UK in 1995 but he didn't sell any here.
Franck Beaudet 1993-97
Approx 3 made
SNIPPETS 1……..Just to recap in case you missed it last week. This year's National Kit Car Motor Show has been rearranged to the weekend of August 29-30. The new for 2020, Newark event is still scheduled to take place on July 25-26. More from www.nationalkitcarshow.co.uk.
SNIPPETS 2……..Good to hear that the country's leading trackday companies are looking to re-commence their events from June 2 and by the looks of things people are queueing up to get their cars out and get out on track. Obviously, and as you'd expect, the operators will be following circuit and government guidelines.
CLICK HERE for our newly updated TRACKDAY CALENDAR.
SNIPPETS 3 …….. Our TKC MAG 'SPECIAL OPS' KITCAR GUIDE is available via mail order NOW.
Back in 2003, we published the totalkitcar Almanac, so this is a 'sixteen years later' Mk2 version, I guess. In a nutshell, it's a round-up of every kitcar you can currently buy in the UK all listed in categories. You can buy a copy HERE (UK), EUROPEAN CUSTOMERS HERE or alternatively, if you live anywhere else in the world (such as Australia, North America and Japan etc) CLICK HERE.
SNIPPETS 4 …….. AK Sportscars has announced the REVISED date for this year's factory open day (it's NOT happening in JUNE) and it will now take place on Sunday, September 20. More from www.aksportscars.com or 01733 267 633.
STEVO'S ALBUM TIP – SNAKECHARMER – SECOND SKIN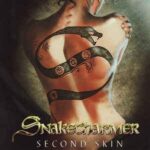 Thanks for letting me know that you've been enjoying these fun, little album tips. They are intended to bring you some great music – often, admittedly, of a 'crunchy' guitar blues-rock variety – including some stuff that you may not have heard before, or even forgotten about, while also being easy to find on Apple Music or Android equivalent.
I missed this album when it was released and it hails from UK band Snakecharmer (originally founded by Micky Moody) and their Second Skin album from 2017 is a good one.
Plenty of good rocking tunes and superb guitar work courtesy of Simon McBride and former Home, Wishbone Ash and Tina Turner guitarist. The band also features Neil Murray on bass.
It's well worth a listen while you are working in the garage or in the car. Standouts for me are – 'Sounds Like A Plan', 'That Kind Of Love' and 'Follow Me Under'.
So, that's about it from me for this week, so until next Friday, May 29, I'll leave you to enjoy the site, pausing just to wish you a great seven days and do take care out on the roads.
Best regards 
Steve
| | | |
| --- | --- | --- |
| | Print article | This entry was posted by admin on May 21, 2020 at 3:10 pm, and is filed under Steve Says. Follow any responses to this post through RSS 2.0. Both comments and pings are currently closed. |
Comments are closed.