A SPEEDSTER CALLED ARABELLA
Steve 'Sport' Griffiths of Severn Classics displayed his latest acquisition, the Arabella Speedster replica at Stoneleigh and the albeit unfinished demo car must have been the most touched body (ooo-er missus – Ed) at the show, due to its very tactile carbon-style wrap that Steve reckons was touched 2500 times on the Sunday.
The latest addition isn't a complete newcomer having been sold at various times under the Sheldonhurst, Covin, DJ Sportscars and Legend banners. I well recall the latter's launch at Stoneleigh back in 1997, when a rival company making a similar product made a real faux pas by inadvertently promoting Cocking and Sands' kit by proclaiming 'Build a Legend' writ large on their stand. Dear old Terry did find that awfully amusing I recall.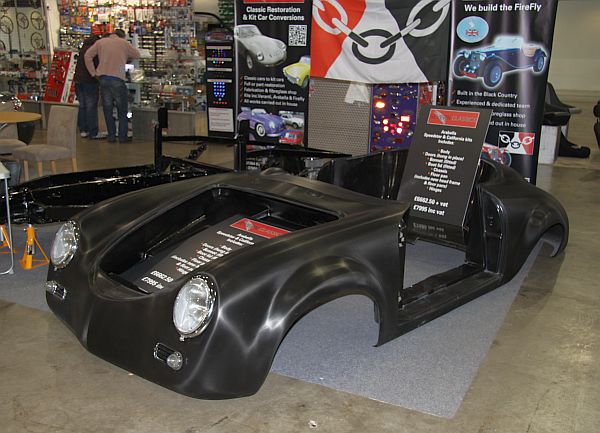 Anyway, back to matters Arabella and in its latest incarnation, the kit costs £7995, which buys you the GRP body pack, bulkhead and reinforcing framework, while you should be able to bag a suitable Volkswagen Beetle donor for £1000, meaning that a DIY self-build should be do-able from around £10,000, bearing in mind that the doors, boot and bonnet are all pre-hung at the factory. Turnkeys will start from around £20,000. EXCLUSIVE feature on this one soon.
Meanwhile, a week or so before the show Steve also acquired another blast from the past kit, this time in the form of the BRA P-Type traditional roadster, originally devised by John Berry and Peter Ibbotsen of Beribo Replica Automobiles, the model has been under the control of Rodney Rushton in recent years along with the cycle wing sister model, the J-Type. Based on MGB mechanicals, Steve is planning on revising the car to accept Triumph Spitfire donor parts thus using the donor chassis.
Associate operation, Veranti Motor Company, run by Steve's friend, Neil Sysum, shared the stand at Stoneleigh where they resurrected the John Barlow-designed, Veranti and also the VXF Sport models.
More information from 01384 637 136 or www.severnclassics.co.uk ENDS.
| | | |
| --- | --- | --- |
| | Print article | This entry was posted by admin on May 9, 2014 at 9:37 am, and is filed under News. Follow any responses to this post through RSS 2.0. Both comments and pings are currently closed. |
Comments are closed.