NEW ROOFLESS LE MANS FROM JH CLASSICS
The JH Classics DGt has continued to sell very well since launching their new MR2-based cars in May 2011, a steady order book and a continuous build programme has delivered cars all around the country and home conversion packages out to Poland, Denmark, Germany and Australia with orders pending for America and France.
The majority have been converted to run the V6, 3-litre 24-valve quad-cam, Camry engine, producing superb, performance. Continuous detail developments mean the cars are always improving with some exciting new options coming on-stream soon.
The first being the launch of the DGt Le Mans, a flat back Dino; simple, quick and easy to build, with an even bigger plus being the low build cost.
The Le Mans first saw the road about 20-years ago, although only two were built, the first spectacularly catching fire on a rally over the Alps, while the second has remained with John Hurst of JH Classics for many years, who reckons that the time has come, with the arrival of similar open top racers, for the Le Mans to hit the road again.
The chosen BUC (Base Unit Car) is the Toyota MR2 Mk3 convertible, an affordable and easily available car. The company demonstrator is being built on a 2000 plate, 1.8-litre example with only 35,000 miles on the clock, costing just £850, and parts not required were sold for £650 to date, so the BUC really is affordable, according to John!
Like the other DGt's, the base unit car is stripped of all front and rear panels leaving a fully drivable car with doors intact. The hood, front screen and screen surround are removed. Some minor modifications are made, as well as some small wiring alterations.
With the car prepared, the new front and rear clam panels are fitted, two new door skins are fitted over the existing MR2 doors, new front boot and rear engine covers are then fitted to the new front and rear ends using brackets and 'R Clip' kits – all supplied within the very comprehensive kit package.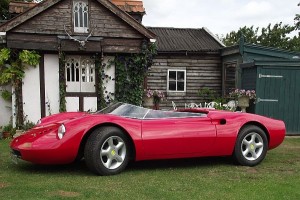 The car is then prepped and painted, returning for a quick final assembly of front headlights, indicator covers, rear stop tail lights, rear indicators (fitted within the original Dino chrome surrounds) and a fog light. Options exist for the windscreen and sidescreens. The expected build time is 80-hours with additional time at the paint shop.
The kit contains: Full body package, including new front end, new rear end, front bonnet, single-piece rear engine cover, pair of door-skins (all supplied in a white gelcoat finish with panels scribed and part-GRP trimmed), eight bonnet/boot mounting brackets, with eight 'R Clip' and pin kits, two complete headlight units with sidelights and chrome bezels, two original front indicator covers, two stop/tail lenses, two rear indicator lenses, four bulb holder plates, four Dino chrome light rims, fog light, all wiring and connectors, all fittings, bonding adhesive, build manual, windscreen and sidescreen templates.
The kit price is £4750 (for the first 15 cars) inc VAT.
JH has detailed a build cost figure of £8000, broken down thus:
Le Mans kit     £4750
MR2 Mk3       £1000
Paint                £1500
Hub adaptors     £500 (available from JH Classics to fit original donor wheels)
Total                £7750
The company has also netted £650 thus far by selling un-needed MR2 parts, thus further reducing the build cost.
In 2014 John will be developing a simple but effective Dino overlay interior and some exciting optional extras allowing an enhanced build to be completed.
Engine options already exist to boost the power; talk to Woodsport of County Durham to explore these options.
Orders for the Le Mans have already been received with the first two kit orders being dispatched at the end of the year, so get in quick as this could be the fastest selling Dino ever created.
For all enquiries contact John Hurst via 01278 661 316 or 07941 990 366 or visit www.JHClassics.com ENDS.
| | | |
| --- | --- | --- |
| | Print article | This entry was posted by admin on August 29, 2013 at 6:50 pm, and is filed under News. Follow any responses to this post through RSS 2.0. Both comments and pings are currently closed. |
Comments are closed.