FIND YOUR WAY
It's probably fair to say that most of us have a satnav device nowadays. I've tried a few over the years and several have their merits. The brand that I have found suits my needs best though is Garmin and their units have saved me from being lost more times than I care to remember.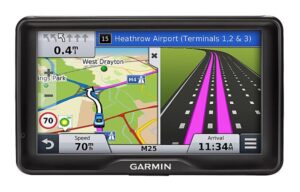 Some of the UK's kitcar manufacturers are located in very out of the way places and without a decent satnav would never be found! My old unit fell over the other day and literally gave up.
I regularly receive press releases from the main satnav makers including Garmin and I'd noticed one particular item telling me about their newly introduced free lifetime map updates and a range of digital-spec models.
Anyway, I had a trawl around their website and settled on the nüvi 2798LM-D model, which has a whopping 7in screen, making it very easy to pinpoint exactly where the nice lady is trying to send you in an intimidating and un-familiar city centre.
The latest range from Garmin makes it easier than ever to follow directions and avoid congestion with the fastest subscription free traffic information available – Digital Traffic – provided by INRIX.
The new line-up categorised as Essential, Advanced and Premium, meet the lifestyle and budget of every customer.
The simple and budget-friendly Essential Series is the perfect starting point for any journey with accurate turn-by-turn directions, spoken street names and Lane Assist with junction views.
The new Advanced Series offers additional features to guide drivers, such as the new Garmin Real Directions™, Active Lane Guidance and real-time digital traffic and voice control.
The new top of the line nüvi Premium Series combines the best in-car navigation available from Garmin. With its elegant styling and ultra-slim profile, the nüvi 3597LMT and 3798LMTD reflects a refined aesthetic that suits the interior of any vehicle. In addition to features available for the Advanced Series, it has a five-inch multi-touch glass screen in real metal housing as well as a powered magnetic mount that automatically snaps in once the user holds the device close. This premium navigator also includes lifetime map updates[1], Garmin's unique Digital Traffic service, 3D buildings and terrain and voice command.
The Advanced and Premium range receive Garmin Real Directions™ that guide drivers like a friend would by telling them to turn at recognisable landmarks, buildings and traffic lights. To make sure drivers get in the correct lane, the new Active Lane Guidance features voice prompts as well as a visual lane animation.
The new INRIX digital traffic offers fast, accurate and subscription free information that sits alongside a new real-time traffic function that now provides information on traffic incidents by voice; users can then speak a response to select a route to avoid the traffic on nüvi models with the voice control feature. Furthermore, the nüvi models feature an all-new.
design and larger screens that range from 4.3 to 7 inches to display driving-related information at a glance.
More from www.garmin.com ENDS.
---
| | | |
| --- | --- | --- |
| | Print article | This entry was posted by admin on July 11, 2013 at 2:41 pm, and is filed under News. Follow any responses to this post through RSS 2.0. Both comments and pings are currently closed. |
Comments are closed.