IT'S A BIG WRENCH
Leading tool manufacturer, Facom, has announced a brand new range of air-driven impact wrenches.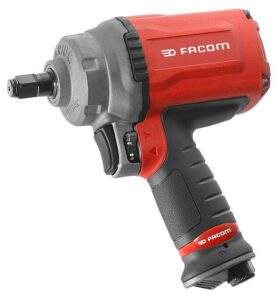 Impact wrenches have a multitude of uses across a variety of sectors. Recognising that different industries have suitably different needs, Facom has produced an array of new air-driven impact wrenches, available with a choice of either aluminium, composite or titanium shell designs. Industries and applications covered include automotive and industrial; marine; building and construction; heavy goods vehicles and rail transport, to name but a few.
Grouped into four categories based on drive size: 3/8in, ½in, ¾in and 1in, the new impact wrenches are available in a number of specifications that combine different weights, power outputs and features.
The aluminium models combine light weight and durability and offer variable power control, socket ring retainers, one-handed forward/reverse operation and feather touch teasing triggers. The 3/8in features a single hammer, twin rocking-dog impact mechanism while the ½in, ¾in and 1in are fitted with more powerful twin hammers. A rubber grip is a unique feature of the ½in model in this range and provides improved comfort in cold conditions, along with enhanced grip. The 1in models also include additional handles to increase mobility, along with angled exhaust ports which keep air away from the work area.
The composite range boasts improvements in power and weight over the aluminium design. The motors offer significant increases in torque and all models feature durable twin hammer mechanisms; variable power settings; socket ring retainers; forward/reverse operation; feather touch teasing triggers and swivel air inlets designed to prevent hoses becoming twisted and coiled during use. The composite casing with integrated handle is also tough, lightweight and insulating.
Leading the way in performance, weight and durability is the titanium range. Powerful twin hammer mechanisms are housed in a super-tough titanium housing to make these compact impact wrenches perfect for intensive daily use. Innovative, low consumption, yet powerful motors are utilised, producing up to 2115 Nm (¾in version) making light work of most jobs. The shells are manufactured from durable and insulating dual-injected composite material and incorporate chemical- and acid-resistant rubber handles. Features include integrated bumpers; a compact short-nose; swivel air inlets; angled exhaust ports; socket ring retainers; one-handed forward/reverse with integrated power controls and feather touch teasing triggers.
Alison Howard, UK Marketing Manager for Facom, said: "The term 'automotive and industrial' covers a huge variety of sectors, all of which have varied needs when it comes to repair and maintenance. We designed the new impact wrenches in order to offer our customers the widest choice possible, while adding features that provide the very best in performance, safety and practicality."
Prices start at £226.80 inc VAT for the 3/8in version with more information on the full range from www.facom.com ENDS.
| | | |
| --- | --- | --- |
| | Print article | This entry was posted by admin on June 20, 2013 at 5:29 pm, and is filed under News. Follow any responses to this post through RSS 2.0. Both comments and pings are currently closed. |
Comments are closed.