NOW, THAT IS A PROPERLY HARD TOP
Over the years the Lotus Seven has inspired many recreations of the style since its first arrival on the automotive scene some 50 years ago.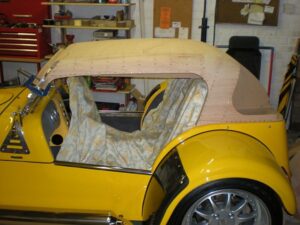 This iconic sportscar style has not aged and continues to attract increasing numbers of followers, admirers and owners, all with their own diverse individual applications from stripped down lightweight, track-orientated cars with datalogging to concours-winning show cars with full leather trim and sat nav, each application bringing its own specific requirements for competitive driving or enjoyable motoring.
One such requirement is weather gear.  While many manufacturers are able to offer soft top options, professionally designed and manufactured hardtops for the LSIS have not been an available option… until now.
With the seemingly increasing unpredictability of the British summer one owner-driver of many years is, Rich Howlett, who has drawn on his own career experience of pattern, prototype development and manufacture to try and resolve the situation.
Rich has a career spanning 25-years within the road and motorsport arena as a racecar engineer producing cars ranging from cottage industry sportscars to Indycars, Champ cars, F3000, F3, British touring cars and Le Mans prototypes.
From his own experience, and for his own pleasure, Rich found the increasing need for a hardtop designed around the requirements of the sportscar, and the concept idea was born.  Starting from scratch over the next three years the project developed from the drawing board design, through pattern, prototype development, manufacturing plugs (patterns) and tooling from which sectional moulds could be taken to enable the hardtop and doors to be produced.  Then came applying for registration and being granted Intellectual Property Patent Office Design Rights for protection of his designs and then to finally producing the finished creation.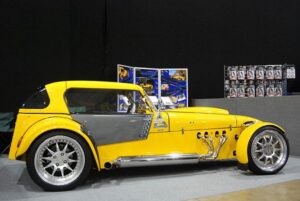 The resulting GRP hardtop has been designed to complement the existing lines of the sportscar while offering easy ingress/exit and was launched at last weekend's National Kit Car Motor Show at Stoneleigh. Rich said: "The response and positive feedback from the public has been outstanding, and our stand was constantly full and buzzing throughout the show."
With the soft top roof in place and a maximum roof height of only 43 inches from the ground, you require a certain amount of understanding and intimacy with your passenger as you either post yourself into the car head or feet first.
With Rich's hardtop however, although the maximum roof height has remained the same at 43 inches, it has the addition of removable roof panels, which can be left in situ and opened to allow easy access or removed completely and stored in the boot space to offer that essential open top driving experience.
Once in the car the roof lining offers a contrasting leather head console for map lighting. The frameless rear window is bespoke to the design and has been patterned, prototyped with moulds and tooling produced to enable manufacture, hinged-on lightened bespoke aluminium hinges the rear window allows full access to the boot compartment for storage of the removable roof panels or transportation of your essential sandwiches and coffee.
The lightweight doors are removable via the conventional manner of lift-off hinges and incorporate a rubber bead seal to prevent water ingress and flush fitted surface mounted locks for security.
To register interest please visit www.richhowlett.co.uk ENDS.
| | | |
| --- | --- | --- |
| | Print article | This entry was posted by admin on May 16, 2013 at 4:20 pm, and is filed under News. Follow any responses to this post through RSS 2.0. Both comments and pings are currently closed. |
Comments are closed.