STONELEIGH 2013 – A VINTAGE YEAR
STONELEIGH 2013 – A VINTAGE YEAR
2CV SHOP – First time Stoneleigh exhibitor last weekend was 2CV Shop run by Darren Arthur.
As the name implies, the company specialises in all things Citroën 2CV and they came to the show with an example of the parts and components that they can supply plus one of their ABS plastic-bodied Mehari kit that is sure to appeal to lots of enthusiasts.
The pretty blue and white version on their stand was an example of the ultimate that can be done with all-new parts and upgrades known to man, while the yellow bodyshell gave an example of what the customer can expect to receive for their money.
Certainly the ABS 'shell looked to be of superb quality and hails from Cassis who are the holders of all the tooling and rights to 2CV and Mehari models.
I heard lots of complimentary remarks about the 2CV Shops stand and their products during the course of the weekend.
More information from www.the2cvshop.co.uk or 01985 841 327 ENDS.
AB PERFORMANCE – Now, unless you've been living on the moon for two years you'll know that Andy Bates, AB Performance boss was on the Dragons Den TV programme in late 2011 and left with investment from Peter Jones.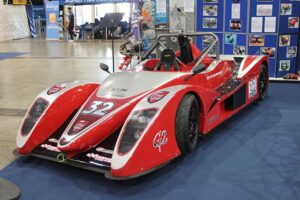 Since then, Andy, one of the leading gurus of bike engines for kitcar use, has taken a year out to revise his Sabre trackday kit, effectively withdrawing it from the market while he examined every single aspect of the kit's design and the way it was produced.
The result appeared at Stoneleigh last weekend and is wonderfully good with laser cut, notched chassis rails that can be constructed in 45-minutes according to Andy and requires no major – or minor for that matter – engineering input from the customer, who'll literally need just a Billy Basic toolkit to commence a Sabre build.
A very impressive stand with lots of very impressive product.
Loads of rumours and whispers that Peter Jones would be on the stand at some point during the weekend although unless he was in disguise, no one I know, spotted him.
More information from www.abperformance.co.uk or 01449 736 633 ENDS.
ANIMOTO SPORTS BUGGIES – Making what I think was their Stoneleigh show debut was this Cliviger, Lancashire-based company, with the first production version of their eponymous, Animoto Sports.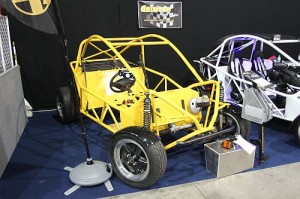 Since the Beardshaw brothers produced their prototype version they've worked in a few revisions and small amendments in the name of simplifying production.
What hasn't changed is the donor vehicle, which remains Fiat Seicento and I have to say that the package impresses me greatly.
More information from www.animotosports.co.uk or 07507 378 264 ENDS.
BACKDRAFT RACING – A welcome visitor to Stoneleigh this year from Florida via South Africa was the Backdraft RT3 Cobra replica that wowed a few people on our stand at the show.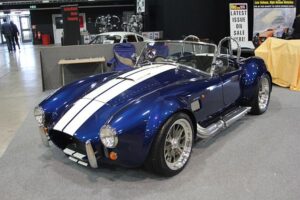 Looking resplendent in its Toyota Adriatic Blue paintscheme, the company has taken the first steps to having UK availability, and certainly makes an impact with a very distinctive and aggressive stance. Run by former Daytona race winner, Tony Martin and Reg Dodd, Backdraft makes the majority of the components in their Durban factory while the RT3 also uses BMW 5-Series parts, while power comes from Ford Coyote V8. So much for those who said 'a Coyote will never fit a Cobra'. Well, it does…
Exclusive UK road test coming this way soon. Watch this space for more information. In the meantime visit www.backdraftracing.com ENDS.
DNA AUTOMOTIVE – All I can say about the DNA DN8 is WOW!
More from www.dnaautomotive.com ENDS.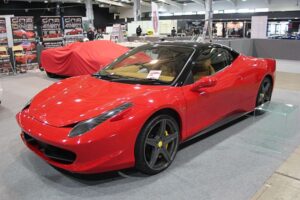 ELITE MOTORSPORT ENGINEERING – New Pulse Lotus Seven-inspired kit from Essex-based Elite Motorsport Engineering run by Edward Ives.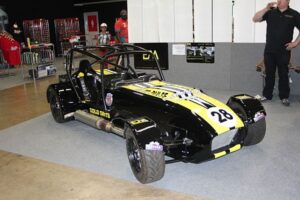 The car made its debut last weekend and certainly looked to feature impressive build quality underpinned by a Bronze-welded triangulated spaceframe chassis, with oval tube double wishbone suspension, featuring pushrods front and rear, and fabricated billet aluminium uprights.
Power for the demonstrator comes from a Ford Duratec delivering around 245bhp and overall the Pulse seems to be of very high quality with the company aiming high with the Caterham CSR firmly in its sights. Kit prices start at £10,000, with turnkey minus packages from £15,000 and turnkeys from £20,000.
More from www.elitemotorsporteng.co.uk or 07590 804 865 ENDS.
PRO-LAMINATES – If you've been interested in kitcars for a while, the name Covin Performance Mouldings might ring a bell or three.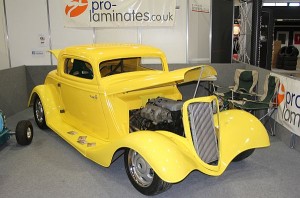 Back in the eighties, two young chaps, Tim COok and Nick VINcent set-up a company producing Porsche 911 replicas, of which they sold hundreds. They also did Speedster and McLaren M6 replicas (I think they only made one of the latter though).
Anyway, Nick was a welcome returnee at Stoneleigh last weekend with his Pro-Laminates operation that for several years has been supplying a variety of rod parts. Nick was a rodder (and is a top laminator) before he ever got into making Covins and his range includes Ford Pop, Fordson van, 32 Roadster, Austin Devon A40 and F100 pick-up.
On his stand at Stoneleigh was a very presentable 34 Coupe that probably traces its heritage back to one of the Bournemouth rodding royalty, Chris Boyle, of 34 Corner's kits although Nick has gone a stage further with his offering by converting it to run on Mazda MX-5 mechanicals, believed to be the first kit-rod so underpinned.
Chassis production is in the hands of MNR Ltd and is priced at £3180 inc VAT. Meanwhile, the body kit comes in at £3000 inc VAT, with the flowing wings at £840 inc VAT. Bag a nice MX-5 donor at around £1000 add in a bit for sundry items and paint and you could have a decent example finished from around £10,500.
More on this one soon. Visit www.pro-laminates.co.uk or call 01279 721 035 for more information ENDS.
RACEKITS – Aldershot-based Racekits debuted their single-seat Falcon at the Stoneleigh show with the 750 Formula racer spawning a trackday-orientated version. The original, uses a Fiat 1108cc FIRE engine from the Punto, Seicento or Cinquecento transverserly mounted behind the driver and canted forward at 45-degrees.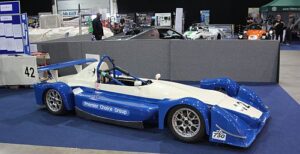 Under the skin the Falcon is all-racer with race-spec suspension and full aero meaning it handles like a deity and can produce lap times at least on a par with more powerful cars. The kit version remains Fiat-powered but switches to the Punto's 1250cc unit.
A full kit is available at £5492 and the diminutive Falcon seems beautifully built.
More information from www.racekits.co.uk or 07731 943 717 ENDS.
RIBBLE KITS & CLASSICS – I have to say that since I first heard about Ribble's new tribute to a Swiss-made kit from the early sixties in the shape of the Colani GT, I did some research on the car's creator, a designer called Enzo Colani and find his work as fascinating as it is varied.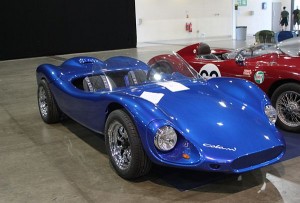 Colani has designed all sorts from cat litter trays with a roof to pens although over 1700 of his GT were sold back in the day.
Ribble's, Andy Powell, debuted his take on the them last weekend and I have to say that the Volkswagen Beetle-based budget kit (IVA exempt, too) is pretty endearing.
Andy reported very strong interest in the Colani GT during the weekend.
More from www.sammio.co.uk or 07716 299 185 ENDS.
RPS LTD – Another returning kitcar manufacturer, is Garry Hutton, formerly one half of GCS Cars who made the Morgan-esque, Hawke, of course.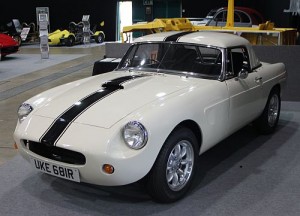 Garry launched his new RP251, an MGB-based body conversion that uses the not quite so-loved rubber-bumper version that gives the donor a new one-piece front end, a replacement bonnet and rear panel, all from GRP.
An added bonus is that the RP251 is IVA-exempt with a kit price of £1295.
More information from www.rps-ltd.info or 07900 431 244 ENDS.
WILDMOOR MOTOR TRACTION – Len Swan's Wildmoor Motor Traction operation made a welcome appearance at Stoneleigh last weekend, albeit on the 750 Motor Club's stand, with their tidy-looking DM1 trackday-orientated kit in LMP-style that is available in kit form or as a turnkey car from £18,000. The company also offers the Lotus Seven-inspired SE1 kit, too.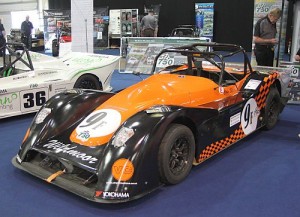 The company has recently moved premises and can now be found at: Unit 2D, Pearsall Drive, Oldbury, West Midlands B69 2RA with more information from www.wildmoormtc.co.uk or 07841 054 275 ENDS.
XCS DESIGNS – Loving the now-completed Fusion 427 from the mightily talented hands of Peter Walker and Gary Sanders, which made its debut at Stoneleigh on the Lustre Coatings stand.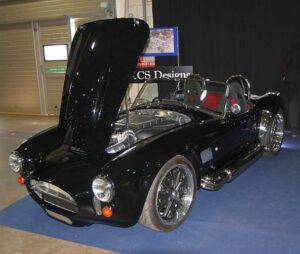 The Fusion features top-of-the-shop specification and is quite simply breathtaking. I got the chance to sit in the demonstrator (we've been promised the EXCLUSIVE, by the way!) and found it to be intoxicating, with a beautifully-equipped cockpit complete with the whiff of luxury hide normally the preserve of top-line Bentleys and Rolls Royces.
The fully-triangulated round-tube chassis incorporates safety crumple zones is produced from CDS tube, while Peter's patented Camber Compensation and Anti-dive suspension is joined by billet aluminium uprights.
The XCS Fusion sits low and mean and can accommodate a multitude of V8 engines, with the demo car utilising a supercharged GM LS3 delivering around 650bhp.
A total triumph.
Prices have yet to be formally announced but it's expected that the XCS will be supplied in fully built and rolling chassis form only.
Until the company's website goes 'live' you can email Peter Walker HERE ENDS.
| | | |
| --- | --- | --- |
| | Print article | This entry was posted by admin on May 9, 2013 at 6:21 pm, and is filed under News. Follow any responses to this post through RSS 2.0. Both comments and pings are currently closed. |
Comments are closed.