NICE STICKER MATE…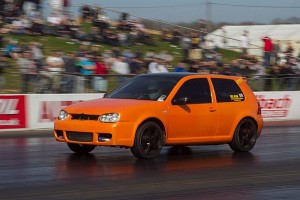 So you've been to Santa Pod and watched these 'ET' classes racing at Drag Racing events, Sportsman ET, Pro ET, Super Pro ET, but what's it all about? Perhaps you've done your 'Run What You Brung', or 'RWYB' days and are now looking for the next affordable step to go racing without going to a full-on 'heads-up' class? On Saturday March 23, Santa Pod Raceway has the event for you.
You can go along to learn about Bracket Racing with the chance to give it a go yourself. It doesn't matter what you drive or how fast it is, you can turn up to the track, have a go and still be competitive – that's the beauty of this style of quarter mile action!
Bracket Racing is oft-misunderstood concept within the sport of Drag Racing, which is why Santa Pod Raceway has launched a beginner's 'dial-in' day. Members of the public can come along, learn and understand the concept of bracket racing and have a go with full qualifying and eliminations under RWYB rules.
Bracket Racing is a form of Drag Racing that allows for a handicap between the predicted elapsed time of the two cars over the quarter mile. Bracket racing places emphasis on the consistency of the driver and car rather than on raw speed, which in turn makes victory much less dependent on large infusions of money, and more dependent on mechanical and driving skill, such as reaction times, shifting abilities, and ability to control the car.
In each qualifying session you predict the time your car will run, the dial-in time. So, for example racer 'A' dials 15sec and racer 'B' dials 13sec. If racer 'A' runs 15.1 and racer 'B' runs 13.2 then racer 'A' qualifies higher because he/she was closer to their dial-in. After the qualifying comes the eliminations. You are pitted against a car that is possibly faster than you, so your opponent's dial-in time is subtracted from your dial-in time giving you a head start by that amount. If your dial-in is on the button, as is your opponent's, then you should both cross the finish line at the same time. However, your reaction time is also taken into account so crossing the line at exactly the same time is improbable.
The day will consist of a tutorial (in the confines of the VIP suite no less) which will offer a full beginners guide to bracket racing including handy hints and tips on how to get your quarter mile time right on your dial in and most importantly of all, beat your competitor. This will be followed by qualifying; this is your chance to begin putting what you've learned into practice.
Once qualifying is completed, an elimination ladder will be set and this is the time for you to experience the thrill of some serious racing. The winner proceeds to the next round and the loser is eliminated, it's as simple as that. There will be a trophy up for grabs for the overall winner and runner-up along with some Santa Pod goodies.
The usual RWYB safety rules and regs apply in terms of helmets and arm restraints if you're in an open top car or will be travelling faster than 110mph at the finish line. Pre-entry is advisable and the standard RWYB fee's apply (£10 per person for admission and £25 per person sign on). This day is open to cars only and the competition will be ran as if it were Sportsman ET, the entry level bracket class. You never know, you might catch the bug and end up moving into the National Drag Racing ranks for the rest of the year! More from www.santapod.com ENDS.
| | | |
| --- | --- | --- |
| | Print article | This entry was posted by admin on November 29, 2012 at 4:46 pm, and is filed under News. Follow any responses to this post through RSS 2.0. Both comments and pings are currently closed. |
Comments are closed.