DUNCAN'S BONKERS RUSH
'How Fast' is a competition………….run by Club MSV, the in-house trackday division of Jonathan Palmer's MotorSport Vision operation.
Drivers are given the opportunity to enter their own (or others') cars and test themselves against the clock in a similar fashion to 'Stig' on the 'Top Gear' track.  Only, on this occasion, the venue used is the challenging 1.8-mile West Circuit at PalmerSport's superb 700-acre Bedford Autodrome circuit complex.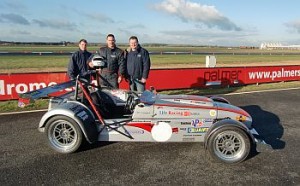 The organisers, Club MSV, log the lap times recorded by all entrants, which are later displayed on the league table on the 'How Fast' website. At the head of the leaderboard currently is evo magazine's test driver, Roger Green, and the Radical SR3 SL with a time of just 1 minute 16.5 seconds – a full 3.1-seconds faster than a McLaren MP4-12C (1 minute 19.6 seconds) and 1.2-seconds faster than an Aerial Atom 500 V8 (1 minute 17.7 seconds)!
Never one to refuse a challenge, tkc mate and all-round top plasterer and bloke, Duncan Cowper, (he of a succession of mental DAX Rush models) was determined to see how well he and his latest Rush with Suzuki Hayabusa power and turbo (courtesy of Geoff Page Racing) would fare.
However, there is no accounting for the British weather – although it can have come as no surprise to Duncan that December and January will contain the odd cold and wet day!
Duncan's first outing to the Autodrome's West Circuit was on December 17, 2011 and the conditions could only be described as 'wet'.  A situation not helped by the fact that Duncan had taken the car to the circuit on slicks!
Remarkably however, Duncan still managed to achieve a time of 1 minute 20.7 seconds.  Quick enough to secure him seventh place on the leaderboard out of 137 entrants – and the fastest wet time for the whole series by far!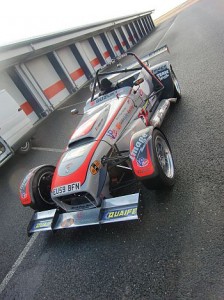 His second visit to the Autodrome was on January 28, 2012 and again the weather wasn't kind. It was a cold damp January day with early rain beginning to disperse thanks to the late appearance of a fast-disappearing sun.
By the time Duncan's turn on the track arrived, the conditions were damp (with some drier patches and some wet).  In the earlier practice session, Duncan struggled to achieve his former time but, with the track showing some signs of drying, he quickly set a cracking mark of 1 minute 16.9 seconds. Incredibly, just 0.4 second off the number one spot!
Duncan's on-board video of the event clearly shows him having the time of his life https://www.youtube.com/watch?v=SXZR5srXeHE. But it says a lot for his abilities (and for those of the DAX Rush) that he's able to cope so easily with the damp conditions. And as for coping with that low afternoon sun reflecting back from the wet track surface – we're just lost in admiration!
Taking up the challenge to secure the fastest wet time (by a country mile) and then to return and take overall second place ON A DAMP TRACK are hugely impressive achievements.  Duncan and the DAX Rush have justly earned their positions on the 'How Fast' leaderboard.
It seems that all they need now is a dry day! We'll keep you posted…
In the meantime visit www.daxcars.co.uk or 01279 442 661 ENDS.
| | | |
| --- | --- | --- |
| | Print article | This entry was posted by admin on February 3, 2012 at 11:26 am, and is filed under News. Follow any responses to this post through RSS 2.0. Both comments and pings are currently closed. |
Comments are closed.